One of downtown's oldest buildings has a new owner is spending $2 million to renovate the historic structure at the corner of Washington and Delaware streets.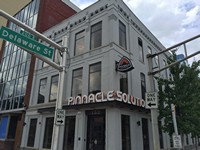 Pinnacle Solutions Inc., a local data and analytics firm, is set to occupy the three-story building beginning Sept. 1. The company, founded in 1996 by D.J. Penix, is moving from 426 E. New York St.
The new location, at 152 E. Washington St., across from the City-County Building, totals 10,000 square feet and is more than twice the size of Pinnacle's old office.
"We ran out of space," Penix said. "We think that this will tide us over for the next five years, but that's a great problem to have if we run into it again."
Pinnacle has 25 employees, and it plans to hire five more in the next year and 20 to 25 within five years. It has between 400 and 500 clients across the country, Penix said. The company's annual revenue is less than $50 million, Penix said, declining to be more specific.
"We're the biggest data and analytics company in the city that no one has ever heard of," he jokingly said.
Pinnacle gutted the inside of the building to create a more modern, open working environment. The architect on the project is Indianapolis-based Arc Design.
The company bought the building from partners of the Mitchell Hurst Dick & McNelis LLC law firm, which had occupied the building for roughly 30 years.   
Originally known as the Stevens-Coffman Building, it was constructed in two parts: the south half in the early 1850s and the north portion in 1866. The second stage coincided with the business boom following the end of the Civil War, according to the Indianapolis Historic Preservation Commission.
The building through the years housed a drug store, saloon and law offices.
 
Please enable JavaScript to view this content.