Local chef Neal Brown is pursuing another eatery along Virginia Avenue, after his plans for a Mexican cantina in Fletcher Place fell through late last year.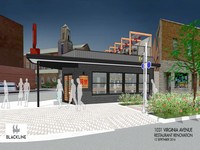 Brown told Property Lines on Monday he's close to finalizing a lease to open a Japanese restaurant and sushi bar in Fountain Square, to be called Ukiyo, at 1031 Virginia Ave. in the former Skip's Market building. (See accompanying image for rendering.)
He will serve as chef and is hoping to open sometime in the spring. Design plans are slated to be presented to the Indianapolis Historic Preservation Commission on Oct. 5.
Brown, who created and owns two Pizzology restaurants and The Libertine Liquor Bar, spent six years at the former H2O Sushi in Broad Ripple.
"It's me recommitting to my love for Japanese food," Brown said. "I'm really excited about it. I actually can't wait."
Brown last year had planned to open Juanita, a Mexican cantina, at 638 Virginia Ave., but abandoned the project after experiencing pushback from residential neighbors. He doesn't foresee a problem with Ukiyo.
"That building is surrounded by commercial properties," Brown said. "The feedback we have received has been very positive. This is a much different type of restaurant than [Juanita]. It's a higher-end place."
The now-vacant Skip's Market building that would house Ukiyo is located at the northwest corner of Virginia and Woodlawn avenues, north of La Margarita.
"It is a really attractive space," Brown said. "I think everyone has been drawn to that building for a better part of a decade. To me, it's somewhat iconic."
Ukiyo will offer Japanese-inspired cuisine using as much local produce as possible, Brown said, with an emphasis on foraging. The restaurant also will have a three-way liquor permit and feature Japanese whiskies and Japanese-inspired cocktails.
Ukiyo, meaning "the floating world," refers to the urban lifestyle, especially the pleasure-seeking aspects, of Edo period Japan (1600–1867).
 
Please enable JavaScript to view this content.