A local developer of student housing has bought two high-profile buildings on Massachusetts Avenue and is relocating its offices to one of them.
Monon Housing Partners LLC has acquired the building at 409 Massachusetts Ave. (see image at top) that houses Mass Ave Toys and plans to move its Annex Student Living division there.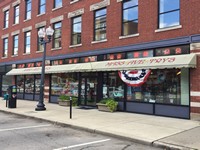 The Broad Ripple company also purchased the building at 301 Massachusetts Ave. (see image below), the flat-iron structure owned by attorney Henry Price that welcomes pedestrians and motorists to the avenue.
Monon Housing Partners is headed by two Annex Student Living principals, Kyle Bach and Rob Martinson. In July, Annex was named by IBJ among the 25 fastest-growing companies in central Indiana.
Annex has outgrown its space in the former Masonic Temple at 6235 N. Guilford Ave., and Bach and Martinson decided that downtown offered a "superior solution."
"Considering Annex focuses on developing housing for colleges and universities, we felt being located within this demographic would provide direct access to this clientele," Bach said in an e-mail. "Mass Ave provides a collaborative working environment centrally located within the community."
Downtown is experiencing a boom in student-housing construction, as IUPUI transitions to a residential campus.
Annex has built at Indiana University campuses in South Bend, Kokomo, Richmond, Columbus and New Albany, and has started a 575-bed dorm at IUPUI that will open in 2017 at the southwest corner of 10th Street and the White River.
At 409 Mass Ave., Annex intends to occupy the second and third floors and market the first floor space occupied by Mass Ave Toys to a restaurant. Toy store owner Natalie Canull announced in May that she would be moving the store by the end of the year.
Canull's sister, Elizabeth Dillon, owned the building and sold it to Monon Housing Partners. Built in 1900, it totals 17,600 square feet.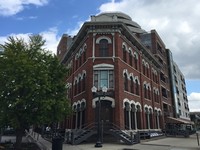 At 301 Mass Ave., the Price Waicukauski Joven & Catlin LLC law firm that occupies the first floor will be leaving at the end of the year. But the firm won't exist in its current state for long.
Price, 79, told Property Lines that he's retiring soon. Price bought the building in 1979, restored it the following year, and moved his law practice there in 1985.
The three-story, 9,430-square-foot building was constructed in 1874 and for several years housed the first College of Physicians and Surgeons in Indiana. Before Mass Ave morphed into a cultural district, the architecturally significant building housed Budnick's bait and tackle store.
"It was totally appropriate for the time it was open," Price said of Budnick's.
Price's restoration efforts landed the building on the National Register of Historic Places.
The other law firm in the building, Riley Williams & Piatt LLC, will move from the second floor to the third.
The second level will remain office space, but Bach will shop the ground floor for retail use.
Bach declined to divulge how much his company paid for the two buildings.
Please enable JavaScript to view this content.