The owners of the Broad Ripple Brewpub are branching out after more than 25 years in the village and opening a second restaurant, on East 10th Street near downtown.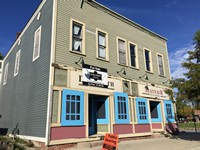 Windsor Park residents are well familiar with the vacant building at the northwest corner of East 10th Street and North Hamilton Avenue that John and Nancy Hill are purchasing. Built in 1920, it once housed the Mayfair Tavern and later Mustang Sally's.
The Hills are set to close on the sale of the two-story, 4,000-square-foot building (top right) Oct. 21 and hope to open by summer. They have not settled on a name yet for the restaurant and taproom but are considering incorporating the iconic Mayfair moniker into it, Nancy Hill said.
"We love the oldness and the history of the building," she said. "We want to play on that."
The Hills opened Broad Ripple Brewpub in 1990—the first brewery of its kind in the state—and a few decades before the microbrewery craze took off in Indianapolis.
They had scouted a few other locations for their new entry, including space at 56th Street and Keystone Avenue and on East 38th Street near the Indiana State Fairgrounds before discovering the building on East 10th Street.
"We've lived and worked in the Broad Ripple area for 35 years, but we're kind of falling in love with East 10th Street now," Hill said.
So are several others.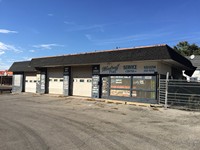 Stenz Corp., which is developing the Dorman Sq. project closer to downtown on East 10th between Dorman and Stillwell streets, bought the old Woodruff Place Service Center (bottom right) at the northwest corner of 10th and Tecumseh streets. Stenz is hoping to lure a restaurant to the space, said Beau Ansty, a vice president of the company.
Ansty credits the sale of the Coke plant site near Massachusetts and College avenues to Hendricks Commercial Properties, which is planning a $260 million development on the site, with sparking more activity along East 10th Street.
And the Circle City Industrial Complex bounding Mass Ave on the north side of East 10th Street is undergoing a repurposing that includes the opening of Centerpoint Brewing soon. Also, the owners of La Margarita in Fountain Square announced on Tuesday that they plan to open the Convivial Community Bar there in the spring.  
Meantime, the Hills will need to embark on an extensive renovation of their building. It needs a new roof and floors, and it has no electricity, Hill said. The restaurant will be family-friendly and feature a small, contemporary menu fit for a taproom, she noted.
The restaurant will be operated by the Hills' son, Alec, and his girlfriend, Hillary Powers, who will relocate from California and plan to live atop their operation. Alec is a chef and a brewer.
The Hills are buying the building from Near East Area Renewal, which purchased it from the East 10th Street Civic Association.
"We're really pleased for the community that they're making the purchase," said John Franklin Hay, NEAR's executive director. "The folks are really pumped about the Hills being here."
Please enable JavaScript to view this content.