Walker Information unveiled the design Wednesday morning of its new headquarters at a ceremonial groundbreaking for the building that will be part of a larger north-side development.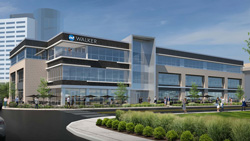 The $12 million, 55,000-square-foot building, to be called Walker Place at River North (click on image for larger view), will be developed in partnership with Indianapolis-based PK Partners LLC as part of its $80 million River North mixed-use development along River Crossing Boulevard near The Fashion Mall.
Walker, a family-owned consulting firm that uses analytics to help businesses retain clients and add customers, will occupy roughly 80 percent of the building. An additional 12,000 square feet on the ground level will be available for lease to other office and retail tenants.
Walker Place at River North is expected to be finished by the end of next year.
PK Partners' River North project also includes a 102,000-square-foot office building that's finished, in addition to a five-story, 198-unit apartment building and parking garage, and a 129-room Hampton Inn hotel—both under construction.
Walker currently is based at 301 Pennsylvania Parkway in Carmel and currently has 127 headquarters employees. The company plans to add up to 30 jobs by the end of 2020. The Indiana Economic Development Corp. has pledged $455,000 in tax credits based on the job creation plans.
Indianapolis-based Architects Forum is the architect for the Walker project.
Please enable JavaScript to view this content.