A couple of upcoming restaurant openings to report:
Long Branch in Fall Creek Place is scheduled to begin serving customers at 5 p.m. Saturday.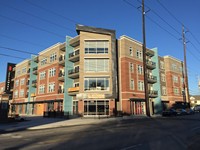 The Asian-inspired eatery in the new Delaware retail-residential complex at the northeast corner of Delaware and 22nd streets is operated by Scott Lowe and the owners of nearby Shoefly Public House, Craig Mariutto and his wife, Kate Mariutto.
Lowe, a 17-year veteran of the restaurant business, helped open Bluebeard on Virginia Avenue, and before that was at Ball & Biscuit on Massachusetts Avenue.
Menu items at Long Range will include shrimp rangoon, egg rolls, General Tso ($15) and short ribs ($16).
Long Branch, a 21 and over restaurant, seats more than 80 and is only open for dinner. Takeout, which Lowe hopes will be a big part of the business, is available via a separate entrance.
Lowe said the owners eventually hope to offer delivery.
Meanwhile, a ribbon-cutting for The Delaware is set for Wednesday. King Park Development Corp. and Bloomington-based Cedarview Management Corp. developed the mixed-use project, which features 47 apartments, 9,000 square feet of retail and a 54-space parking garage.
Also,
Joella's Hot Chicken expects to open its first Indianapolis location early next month, at 4715 E. 96th St. in the former 96th Street Steakburgers space.
The Louisville-based chain is seeking to hire 75 employees with wages of up to $14 an hour and will hold an on-site job fair from 9 a.m. to 7 p.m. Nov. 14-18.  
Menu items include fried chicken, macaroni and cheese, sweet-vinegar slaw, garlic fries, kale crunch salad, black-eyed-pea salad, banana pudding and fried Nutella poppers. The eatery's chicken comes in six spice levels ranging from "Traditional Southern" to "Fire-in da-Hole."
Joella's, owned by EAP Restaurant Concepts, opened its first location in July 2015. It now has four in Kentucky—two in Louisville, one in Lexington and another in Crescent Springs south of Cincinnati, with one opening soon in Cincinnati. It first announced its plans for Indianapolis in July.  
EAP also operates Boom Bozz Craft Pizza, a six-restaurant chain with a location in Carmel, and Manny & Merle, a restaurant and bar in Louisville.
 
Please enable JavaScript to view this content.