Two local developers are teaming on a proposal to build a five-story apartment and retail project on a downtown surface lot near the base of Massachusetts Avenue and next to one of the city's most iconic office towers.
Gershman Partners Inc. and Deylen Realty Inc. have filed plans with the city for The Ardmore, which would be constructed on 2.8 acres at the southwest corner of North Delaware and East New York streets. That's the same block as the 36-story Regions Tower, which was developed in 1970 and for many years was the tallest building in the state.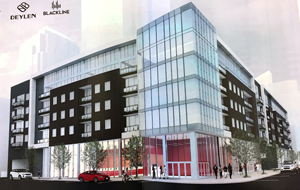 The lot is on the south side of East New York Street and across from TWG Development Inc.'s Pulliam Square project.
Plans call for 124 units, 24,100 square feet of retail and 407 parking spaces, including two levels below ground. The two retail spaces would measure 14,193 square feet (closest to Delaware) and 9,944 square feet, according to the filing.
The entire project would total 345,165 square feet, including the two underground levels for parking.
Plans were to be presented to the Regional Center Hearing Examiner for consideration on Nov. 17 but have been continued until Dec. 15.
Eric Gershman, president of Gershman Partners, declined to comment on the project. But the developers say in the city filing that The Ardmore "will serve as a focal point and transition between the historic masonry-clad buildings along Mass Ave and the contemporary skyscrapers of downtown on the blocks surrounding Monument Circle."
"The plan for the Ardmore is designed to re-establish the urban fabric by replacing a surface parking lot and by utilizing the entire site and building to the property lines on both New York and Delaware streets," the filing says.
Blackline Studio is the architect on the project.
The owner of the site is listed in the filing as Nightingale Properties. New York-based The Nightingale Group LLC in September 2014 bought the Regions Tower to the south for $65 million from a local ownership group.
The group consisted of Todd Maurer, a principal at Newmark Knight Frank Halakar, which managed the property, and his father, Michael S. Maurer, along with local businessman Robert Schloss and Pittsburgh-based McKnight Group. Michael Maurer and Schloss also are shareholders in IBJ Media, publisher of IBJ.
A block away, Gershman is developing the four-story, 30,000-square-foot Marietta addition to the Marott Center at 342 Massachusetts Ave. On a larger scale, Gershman and the Pittman family developed The Bridges on 116th Street between Spring Mill Road and Illinois Street in Carmel. It includes a Market District grocery store, CVS Pharmacy and multiple fast-food restaurants and other retail tenants
Deylen developed The Hinge and Slate apartment and retail projects on Virginia Avenue in Fletcher Place and is building the similar Forte at 1202 S. Shelby St. in Fountain Square.
Please enable JavaScript to view this content.