The owner of a refurbished historic building near Massachusetts Avenue is changing his plans to occupy the ground level retail space after several restaurateurs expressed interest in it.
Broad Ripple jeweler Nick Blum bought the three-story brick structure at 740 E. North St. in August 2015 and has completed a $3.6 million renovation to turn the building into retail and residential space.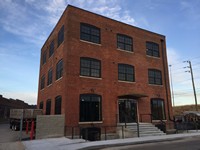 Blum, who has moved his Blumlux boutique to the building, had planned to occupy the first floor. But the inquiries he's receiving from restaurateurs has prompted him instead to move to the garden level—space that's partially below grade.
"We've had such massive interest from restaurateurs, from small pubs to high-end restaurants," said Brad Litz of Indianapolis-based Litz Real Estate, the developer of the project. "That left us with a lot of opportunity on the main floor."
The remaining portion of the garden level is leased to local marketing firm CoForce International.
Blum, who designs jewelry and watches under his Blumlux label, had rented space above Qdoba in the 6300 block of Guilford Avenue. But a lack of on-site parking for customers hindered growth.
Constructed in 1898, the 13,000-square-foot downtown building is just west of Interstate 65 and at the bottom of one of the off-ramps that shuttles traffic from the interstate to downtown.
Blum told IBJ upon his purchase of the building last year that he was attracted to its historical character and proximity to the interstate.
The second level contains three apartments ranging in size from 900 square feet to 1,300 square feet with rents starting at $2,700 per month. Two 2,200-square-foot penthouses on the third floor each rent for $6,000 per month.
Two of the apartments and one of the penthouses are leased, Litz said.
"They're the top of the market," he said, "and for people who don't want to be in a super-dense building."
Litz and Blum will host an open house for the building from 5 to 9 p.m. on Friday.
Please enable JavaScript to view this content.