Here's a last-ditch effort to catch up on recent retail activity before we bid farewell to 2016.
First up, the College Avenue corridor, already swelling with eateries, looks to be getting an addition.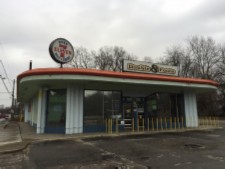 Kimbal Musk, co-founder of The Kitchen, which is coming to Massachusetts Avenue, is close to taking the former Double 8 Foods store at the southeast corner of 46th Street and College Avenue for another one of his restaurant concepts.
That's according to several posts on a Meridian-Kessler neighborhood Facebook page.
An affiliate of PK Partners purchased the property in March 2015. Wes Podell, PK Partners' senior vice president of development, told Property Lines that his company has an agreement to sell the building to a restaurant operator, but he declined to comment further because a deal has not been finalized.
The 5,865-square-foot building was constructed in 1930 and originally was occupied by a Kroger grocery. The Double 8 location closed in 2014.
Along the College Avenue corridor, Musk's eatery would join Open Society Public House at 4850 N. College Ave., which opened in June. Catty-corner to that is Greg Hardesty's celebrated prix-fixe spot, Recess, which opened in 2010.
Latin restaurant Delicia opened in 2013 near the northeast corner of College and 52nd Street, followed soon after by sibling La Mulita next door. Other notables on College include Taste and SoBro Cafe on 52nd Street, and Yats and Twenty Tap on 54th Street.
In Broad Ripple:
• BurgerFuel has filed plans to open in the former Quality Leasing building at 6320 Guilford Ave., across from The Vanguard (formerly Usual Suspects).
The New Zealand-based chain's website says the location is "coming soon" and will be the first BurgerFuel location in the United States. Overall, it has 88 locations in six countries, with 54 of those in New Zealand. It was founded in Auckland in 1995 and has locations in Egypt, Kuwait and the Gold Coast.
BurgerFuel's menu features "gourmet" burgers, chicken sandwiches, fries and shakes, as well as vegan, vegetarian, gluten-free and halal options. Among the menu items are sweet potato fries and "Motobites," which are made of pumpkin, carrot, chickpea and ginger.
The publicly traded company, which had $83 million in revenue last fiscal year, has big plans for the United States, so it is banking on the Indianapolis location to do well.
Downtown:
• Florida chef Charles Mereday has taken over the former City Cafe space at 443 N. Pennsylvania St. and has renamed it Mile Square Bistro. Following a remodeling, the restaurant should open early next year.
City Cafe owners Nancy and Brad Royal closed their breakfast and lunch spot in September.
• Brothers Bar & Grill has opened at 255 S. Meridian St. in the building that had served Roberts Camera for decades. The retailer left in September 2014 for a larger, 35,000-square-foot facility at 220 E. St. Clair St. between North Delaware Street and Fort Wayne Avenue.
 
The Lacrosse, Wisconsin-based Brothers has locations in Broad Ripple, Bloomington, Muncie, South Bend and West Lafayette. Overall, it has 20 in nine states, mostly in the Midwest.
Elsewhere:
• Festiva, the latest entrant to the local culinary scene from Peter George and Thomas Main, is open at 1217 E. 16th St. The Mexican restaurant follows their first restaurant, Tinker Street, to East 16th.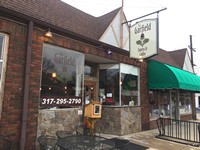 Closings:
• The Garfield Eatery & Coffee at 2627 Shelby St. in the Garfield Park neighborhood stopped serving customers Dec. 23. A Facebook post from owners Beverly and Tom Manuel, who purchased the business in June 2015, simply says "after much deliberation and discussion, we have decided to close the cafe."
• Backroom at the Limited in Circle Centre mall shut its doors Dec. 24.
Please enable JavaScript to view this content.