A high-profile space just south of Monument Circle that's been vacant for a year is about to get a new tenant from out West.
The Portland, Oregon-based Greenleaf Juicing Co. expects to open in March at 18 N. Meridian St., which had been home since 1977 to Hardwicke's Pipe & Tobacco shop. It shut down in January 2016, with its Broad Ripple shop closing earlier this month.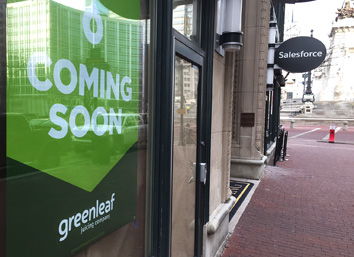 Greenleaf Juicing Co. plans to open next to one of Salesforce.com's downtown office locations and just off Monument Circle. (IBJ Photo/Mason King)
Greenleaf owner Garret Flynn is an Indianapolis native. The downtown location is his first foray outside of Portland. He and a Portland team operate four Greenleaf locations in the Pacific Northwest city and will co-own the Indianapolis store with Joe Peoni. 
Flynn said he and his wife spend about half their time in Indianapolis and are working toward moving back full time. The growth of the city's downtown helped sway him to expand to Indianapolis.
"We thought the Monument Circle location, with all the tech growth downtown, was a more attractive option than some of the other markets we were considering," Flynn told Property Lines.
Their timing seems to be spot-on. The New York Times on Tuesday published a piece recognizing the city's growing tech scene. Greenleaf's store will be next door to one of Salesforce.com's local office locations, and the global marketing firm is in the midst of a massive expansion in the Salesforce Tower just across Monument Circle.
Greenleaf's menu consists of several varieties of juices, smoothies, and acai and quinoa bowls. Granola cups, steamed soups, and coffee and nut milk also are available.
Greenleaf will join another organic-focused eatery featuring homemade juices in the downtown market: The Garden Table. It expanded from Broad Ripple and opened a second location, on Jan. 10, at 342 Massachusetts Ave. in the Marott Center. Others include Natural Born Juicers at 865 Massachusetts Ave. and Twenty Two Juicery & Smoothie Bar in the City Market.
Please enable JavaScript to view this content.