A longtime tenant at City Market has gone out of business.
• Jumbo's, which held a prominent slot at the downtown market for more than four decades, quit serving its sandwiches on Wednesday.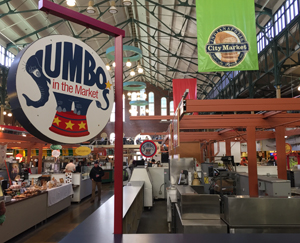 A handwritten-sign on the soda machine read: "Jumbo's thanks you for your patronage for the past 42 years."
Jumbo's has in fact survived for that long, albeit under different owners, said Stevi Stoesz, City Market's executive director.
"We had discussed their struggles," Stoesz told Property Lines. "This wasn't actually a shock to management, but we were hoping they could hold on until spring or summer [when foot traffic might improve]."
Founded in 1886 and located just north of the City-County Building at Delaware and Alabama streets, City Market has long been a lunchtime institution. The city in 2010 spent $2.7 million to upgrade the main hall. A YMCA branch opened in 2011 on the east side, and entities such as the Local Initiatives Support Corp. now lease space in the west wing.
Stoesz said she is confident she can fill the void left by Jumbo's.
"I've had quite a bit of interest," she said. "Ideally, I'm going to break it up into at least two, if not three or four, individual spots."
Stoesz hinted that a lot of City Market's newer tenants have built customer bases via social media, something that might have been lost on an old-school institution such as Jumbo's.
Also in downtown Indy:
• Fresh Pop Popcorn Co. has opened on the ground level of the 120 Market Suites building at 120 E. Market St., west of City Market.
Meanwhile, in Speedway:
• O'Reilly's Irish Bar & Restaurant is taking 3,200 square feet in the newly constructed building at 1534 Main St. that houses the headquarters of Paradigm Real Estate Investments.
Paradigm refurbished the Rosner Drugstore building at 16th and Main and invested $1 million to renovate the building and demolish an adjacent structure to make way for 15,000 square feet of retail, restaurant and office space.
O'Reilly's owner Keith Reilly said he hopes to open in early April.
"We'd like to get a month under our feet before the craziness starts," Reilly said, referring to the weeks leading up to the Indianapolis 500.
On Speedway's burgeoning Main Street, O'Reilly's will join the likes of Daredevil Brewing Co., Big Woods and Sarah Fisher's 1911 Grill.
This will be his fourth O'Reilly's. The others are in Indianapolis, downtown at 36 S. Pennsylvania St. in the Century Building and at 8923 S. Meridian St. on the south side north of County Line Road, in addition to another in Fort Wayne.
Another closing:
• Houseworks at 5252 E. 82nd St. near Allisonville Road is shutting its doors. The retailer of modern furniture, lighting and accessories is conducting a moving sale and says on its website to "wait and watch for our new location."
Please enable JavaScript to view this content.