The vacant downtown building at 660 Fort Wayne Ave., where White Castle began serving Hoosiers its signature sliders in 1927, is now under the protection of Indiana Landmarks.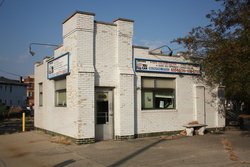 The building is believed to be the third-oldest restaurant constructed by the burger chain, founded in 1921 in Wichita, Kansas. When it served its last burger in 1979, the location was the oldest continuously operating White Castle in the country.
It since has been used as a real estate office and National Guard recruiting center. And although quite small, the building is highly visible—sitting at the three-way intersection of Fort Wayne Avenue and Delaware and Walnut streets, just south of the Indianapolis Public Schools headquarters.
Indiana Landmarks first waged a rescue campaign in the early 1980s to save the building from being demolished for a six-car parking lot—an indication of the building's diminutive size.
Now, Landmarks has taken title of the structure. When the National Guard no longer needed the building, the state transferred ownership to the city of Indianapolis. The city sold it to Landmarks for $1, under an agreement that requires the not-for-profit to make improvements and sell it with a preservation covenant attached.
"This time, by taking title to the structure, Indiana Landmarks can ensure its protection," Mark Dollase, Indiana Landmarks vice president of preservation services, said in a press release. "It would make a great little office or restaurant."
The castle-like structure requires specialized masonry repair to match the white glazed brick. White Castle founder Billy Ingram claimed that he modeled his buildings after the Chicago Water Tower pumping station, with battlements and turrets.
Built from just 1925 to 1929, the high-style castles are a vanishing breed. The chain introduced buildings of enameled steel in 1929. The downtown White Castle featured only five stools for customers before a 1930 renovation added four more.
White Castle is generally credited as the country's first fast-food chain. Its addictive burgers were priced at 5 cents until the 1940s and 10 cents for several years thereafter. The company is headquartered in Columbus, Ohio.
The chain has more than 500 locations in 12 states, many of which are in the Midwest.
Please enable JavaScript to view this content.