If East 16th Street were on a Monopoly board, Peter George and Thomas Main could claim a market-cornering trifecta of properties—at least from a restaurant perspective.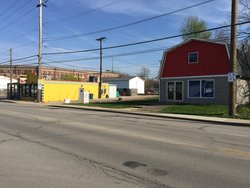 The pair started with Tinker Street Restaurant & Wine Bar at 402 E. 16th St., and then followed with Festiva at 1217 E. 16th St. They now are preparing to launch their third: BBQ Barn at 1215 E. 16th St., east of the Monon Trail and adjacent to Festiva (on left in photo, with BBQ Barn on right).
"There seems to be a void for quality barbecue in the downtown area," George said. "We think there's an opportunity."
George and Main hope to open BBQ Barn in June with the help of chef de cuisine Blake Ellis, who assisted with the launch of Tinker Street and will serve as "pit master" at the barbecue joint.
BBQ Barn will occupy the first floor, with offices above for the pair's three restaurants on East 16th Street. The space is so small—with 550-square-foot floor plates—that most of the ordering will be limited to carry out with seating outdoors.
The eatery will only serve lunch, drawing from a limited menu featuring the restaurant's signature item—beef brisket.
"There's a fair amount of drive-by traffic, and the neighborhood is growing," Main said.
Beer and wine will be available.
Meanwhile, downtown:
• Temaki House, a restaurant serving prepared-to-order cold sushi wraps, is taking the 805-square-foot space in Salesforce Tower formerly occupied by the Travel Authority travel agency.
• Goodfellas Pizzeria at 545 Massachusetts Ave., and southern European eatery Stella at 608 Massachusetts Ave., in the former Pizzology space, have both opened.
• Cafe Olivia at City Market stopped serving breakfast, as of April 7.
• Escape Indy, described as a "high-stakes espionage escape game," has launched at 150 E. Market St.
In Hamilton County:
• Rodizio Grill opened its first Indiana location late last month at 2375 E. 116th St. in the space formerly occupied by Macaroni Grill. The Brazilian steakhouse chain has about 20 locations across the country.
• Wasson Nursery & Outdoor Living, a six-acre garden center and outdoor living store, has opened at 13279 E. 126th St. near Olio Road in Fishers. An official ribbon-cutting and grand opening event is set for April 21.
Wasson Nursery also has locations in Muncie and Union City.
Elsewhere:
• The Main Event bowling-anchored entertainment and dining venue is set to open April 17 at 4016 E. 82nd St. The building had been vacant since Latitude 360 closed in January 2016.
• High-end cosmetics retailer Kiehl's opened April 6 at The Fashion Mall at Keystone. The New York City-based Kiehl's, which started as a pharmacy in 1851, is owned by French beauty company L'Oreal. It has about 250 stores nationally, but had no free-standing stores in the Indianapolis area. It also sells its cosmetics locally through other retailers, including Nordstrom, Saks Fifth Avenue and Von Maur.
• Tea's Me Cafe at 140 E. 22nd St. is operating under new ownership. Former Indiana Fever basketball star Tamika Catchings closed on the sale of the tea shop in February and officially tipped off her new gig April 8.
• Don Hall's Castleton Grill at 6010 82nd St., near the Castleton Square Mall, has closed and the building has been torn down.
Please enable JavaScript to view this content.