A local restaurateur whose eateries have helped transform the Mass Ave culinary scene is adding two more to his portfolio—both in the Ironworks hotel under construction near Keystone at the Crossing.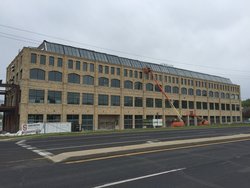 Mike Cunningham and his Cunningham Restaurant Group will operate Rize and Provision in the $30 million, 120-room hotel that should be finished in early September.
Rize will be located in 2,000 square feet on the first floor and will serve breakfast and lunch seven days a week, with a menu focused on "healthy, clean eating," Cunningham said.
Provision will operate in 5,000 square feet on the second floor as an upscale lunch and dinner concept, he said. Cunningham will develop both menus from his test kitchen at Vida on East New York Street downtown.
Beloit, Wisconsin-based Hendricks Commercial Properties is developing the 100,000-square-foot hotel (see accompanying image) adjacent to its five-story, 120-unit mixed-use development that also bears the Ironworks name.
Hendricks is building the hotel on 5.3 acres where the former La-Z Boy building sat, directly west of the Ironworks apartment building along the south side of East 86th Street near Keystone Avenue.
Hendricks CEO Rob Gerbitz said he was formally introduced to Cunningham through Colliers International retail broker Alison Melton.
"I eat at a lot of his restaurants, and I like what he does," he said. "We hit it off, and it seemed to make some sense."
Hendricks also operates an Ironworks hotel in its hometown of Beloit and the Delafield Hotel in Delafield near Milwaukee. But at those hotels, Hendricks owns the restaurants, unlike the arrangement in Indianapolis.
"We were going to do that here," Gerbitz said. "But after meeting with Mike, we thought this would be a really good fit and get a well-respected local operator in the Ironworks hotel."
Daily room rates at the Ironworks hotel should run in the $180 range.
Besides Vida, Cunningham operates Bru Burger Bar, Mesh, Union 50 and Livery downtown, in addition to Bru Burger in Carmel and Plainfield, Boulder Creek Dining Co. in Brownsburg, Charbonos in Avon and Stone Creek Dining Co. in Greenwood, Noblesville, Plainfield and Zionsville.
Please enable JavaScript to view this content.