Plans for the massive Bottleworks mixed-use project at College and Massachusetts avenues continue to take shape as the developer presents more building renderings to the city for review.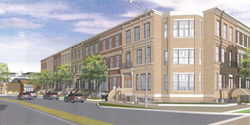 The $260 million development, proposed by Hendricks Commercial Properties, would feature a 136-room West Elm hotel, an eight-screen cinema, office and retail space, and apartments and condominiums.
The Beloit, Wisconsin-based developer has dubbed the project Bottleworks, in reference to the former Coca-Cola bottling plant on the site that would be an integral piece to the 11-acre project.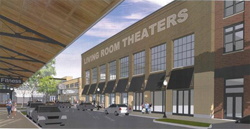 Hendricks began presenting its plans to IHPC April 19, when the commission preliminarily approved the developer's plans to restore existing terra-cotta buildings, including the main bottling plant structure.
On May 17, Hendricks presented plans for new buildings along North College Avenue, including at the corner of College and East 10th Street, and for new buildings along an extension of Ninth Street planned east of College Avenue.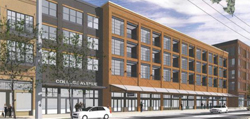 Renderings to the right (click on images for larger views) are in this order:
● Building No. 5 at the southeast corner of 10th and College, which would be retail at street level and residential above
● The theater building facing north on Ninth Street
● Buildings No. 11 and 12 on the east side of College between Ninth Street and Mass Ave, which would be retail at street level and residential above
Hendricks is presenting its plans for review in four stages to the Indianapolis Historic Preservation Commission, with the goal of getting IHPC approval July 19—about the same time the developer would take ownership of the property from Indianapolis Public Schools.
IPS owns the site and has used it to house the school system's bus-maintenance operations.
At the next meeting, on June 21, Hendricks is set to present plans for new buildings along Mass Ave, including the structure that will be constructed at the point of College and Mass avenues, in preparation for final IHPC approval on July 19.
Hendricks hopes to start construction later this year.
Please enable JavaScript to view this content.