The chef responsible for the nationally lauded breakfast-and-lunch haven Milktooth in Fletcher Place is now preparing to launch his second local restaurant and hopes to open in October.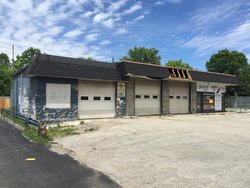 Milktooth proprietor Jonathan Brooks told Property Lines that his new dining venture, called Beholder, will be located at 1844 E. 10th St. (see image at right) in the Windsor Park neighborhood east of downtown. The property is a vacant building adjacent to Family Dollar that last housed a car-repair shop.
Brooks didn't want to reveal too many details about the new restaurant but said his partner in the operation is Josh Mazanowski, the sommelier at the former Meridian-Kessler hotspot Recess, which closed in early February.
The two met while Brooks was chef de cuisine at Recess.
"It will be pretty wine-driven," Brooks said of Beholder. "We will do a tasting menu as well as an a la carte menu. I think people can expect some pretty progressive food for Indianapolis."
The restaurant will be for patrons 21-and-over and seat 70 inside.
An entity of local developer Stenz Construction Corp. owns the 1,077-square-foot structure and will lead the buildout. A roughly 1,300-square-foot addition will house the kitchen.
One 10 Studio PC is the architect on the project, according to a construction filing.
"I've always loved the Woodruff area (adjacent to Windsor Park)," Brooks said. "I think there's a lot of cool stuff going on there right now. Hopefully, we will be a destination restaurant and also serve the neighborhood."
Brooks in 2014 opened Milktooth on Virginia Avenue in the emerging Fletcher Place neighborhood. It not only established Brooks as one of Indiana's leading chefs, it brought him national attention when he was named one of Food & Wine magazine's Best New Chefs. Milktooth also was cited by Bon Appetit in 2015 as one of the country's best new restaurants.
In other restaurant news:
BurgerFuel opened Monday at 6320 Guilford Ave. in Broad Ripple, taking the former Quality Leasing building across from The Vanguard.
What's significant about the location is that it's the first BurgerFuel to open in the United States. The New Zealand-based chain has more than 80 locations in six countries, with 54 of those in New Zealand. It was founded in Auckland in 1995 and has locations in Egypt, Kuwait and the Gold Coast.
BurgerFuel's menu features "gourmet" burgers, chicken sandwiches, fries and shakes, as well as vegan, vegetarian, gluten-free and halal options. Among the menu items are sweet potato fries and "Motobites," which are made of pumpkin, carrot, chickpea and ginger.
Steve Delaney, a retail broker at CBRE who represents BurgerFuel, said the company is searching for more locations in the Indianapolis area.
Please enable JavaScript to view this content.