We'll kick this roundup off with activity in the Keystone at the Crossing area:
• Le Creuset, a French manufacturer of premium cookware, has filed plans to open a store in the Rivers Edge shopping center.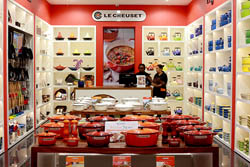 The location will be the first in Indianapolis for Le Creuset, which will take nearly 1,600 square feet formerly occupied by Orange Leaf, according to a construction filing.
Founded in 1925, Le Creuset has just one store in Indiana, at Lighthouse Place Premium Outlets in Michigan City, its website shows.
Le Creuset is most known for its colorfully enameled cast-iron cookware, ranging from bright (cherry) to muted (dune). (The image above is from a recently opened store in South Africa.)
• Distinctive Diamonds, a freestanding jewelry store at 8557 N. River Road, on Monday officially began operating as Diamonds Direct.
Charlotte, North Carolina-based Diamonds Direct in April bought Distinctive Diamonds, which operated the local store and another in St. Louis. Distinctive Diamonds was founded in 2002 by Eli Benisty.
• White House Black Market reopened Tuesday at the Fashion Mall at Keystone, following its move to the former Apple store space near Pottery Barn.
The Fort Myers, Florida-based retailer of women's apparel moved to its new location as part of an expansion.
Elsewhere:
• Metro Diner is set to open June 20 at 2258 W. 86th St. in the North Willow Shopping Center on the city's northwest side.
The Jacksonville, Florida-based chain is taking the 4,200-square-foot space formerly occupied by Le Peep. Metro Diner also has Indianapolis locations at 3954 E. 82nd St. in Clearwater Crossing, 7225 U.S. 31 on the south side and in the Butler University parking garage.
• Toppers pizza delivery chain has signed a lease to take space at 11640 Brooks School Road in the Sandstone Commons strip center in Fishers, as part of a broader expansion into the Indianapolis area.
The Whitewater, Wisconsin-based company operates local outposts at 910 W. 10th St. near the IUPUI campus and 12545 N. Meridian St. in Hamilton Crossing Center in Carmel. Toppers hopes to have the Fishers location open in the fall.
It's also nearing a lease deal to take space at 586 S. State Road 135 in the Sutton Park Retail Center, said Mark Cairns, the company's director of franchise development.
Toppers is aiming to open five new locations in the Indianapolis area—on top of the two existing outposts—all of which would be company-owned. The chain overall operates 75 stores, 19 of which are company-owned and the rest franchised.
Closings:
• Bu Da Lounge, a cigar bar that offered Asian fusion cuisine, has closed at 148 E. Market St.
"We are excited to announce that we are starting a brand-new concept on the north side of Indianapolis. Look for more details soon," a Facebook post says.
In January, a confrontation involving several people outside the nightspot led to the fatal shooting of a 31-year-old man. The lounge previously operated at 429 Massachusetts Ave. before moving to Market Street several years ago.
Please enable JavaScript to view this content.