A local developer plans to spend nearly $800,000 to buy and convert a vacant firehouse in the Butler-Tarkington neighborhood into a restaurant and bar.
Fire station No. 16 at 56th and Illinois streets (see image below) closed in July as part of a department-wide redeployment plan, which recommended the Butler-Tarkington location consolidate with station No. 32 on Guilford Avenue in Broad Ripple.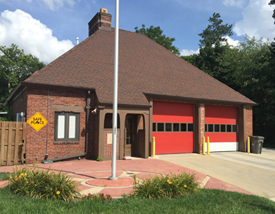 The city took bids on the property until February and received two—from Third Street Ventures and from Jim James, owner of Indianapolis-based 21st Amendment Inc. One of the company's liquor stores sits just north of the firehouse property, at the southeast corner of 56th and Illinois.
A review committee that included Butler-Tarkington residents and Department of Metropolitan Development officials recommended Third Street Ventures redevelop the building.
The Metropolitan Development Commission is set to vote on the recommendation at its June 21 meeting.
"This building is a fixture and an iconic building at that node in our neighborhood," Clark Kirkman, president of the Butler-Tarkington Neighborhood Association, told MDC members Wednesday. "The building will be preserved."
Plans from Third Street Ventures call for a restaurant and bar, which would serve beer from Central State Brewing, Kirkman said. James also had proposed a bar and restaurant at the site.
But James' plans to build a 3,725-square-foot addition at the rear of the firehouse to accommodate a tasting room didn't sit well with the review committee. Other deciding factors included Third Street Ventures' flexibility to make the project work.
The developer said it is willing to restrict hours of operation to coincide with existing businesses in the neighborhood and to operate with either a two- or three-way liquor license. Its previous experience developing historic buildings also came into play.
Third Street Ventures is operated by Antone Najem and is rehabbing Tinker House, a 100-year-old manufacturing building at the corner of 16th Street and the Monon Trail with Hotel Tango Whiskey as the anchor tenant.
The developer is offering $400,000 for the firehouse property and plans to spend more than $392,000 rehabbing the building, according to the proposals.
If MDC votes in favor of Third Street's proposal, it would take ownership of the property in August.
Najem didn't return messages from Property Lines seeking comment on his proposal.
Station No. 16 opened in 1932 and once needed to have its overhead doors enlarged to accommodate newer and larger fire engines, according to the Indianapolis Fire Department's website.
Please enable JavaScript to view this content.