The Indianapolis Historic Preservation Commission reviewed designs on Wednesday evening for four more buildings in the massive Bottleworks project proposed for the site of the former Coca-Cola bottling plant downtown.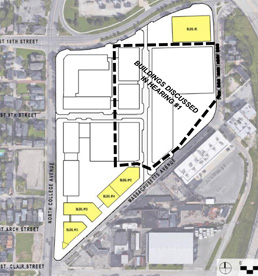 Greg Uhen of Milwaukee-based Eppstein Uhen Architects highlighted an eight-story office building slated for the southwest corner of 10th and Bellefontaine streets and three mixed-use buildings set for the triangular section at the southwest end of the development at North College and Massachusetts avenues. (Buildings are in yellow at right; click for larger view.)
The $260 million development, proposed by Hendricks Commercial Properties, would feature a 136-room West Elm hotel, an eight-screen cinema, office and retail space, and apartments and condominiums. Hendricks is presenting its plans for review in four stages to the Commission, with the goal of getting IHPC approval July 19—about the same time the developer would take ownership of the property from Indianapolis Public Schools.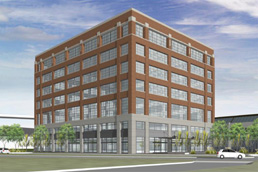 The eight-story office building at 10th and Bellefontaine streets would feature 230 public and tenant parking spaces on floors two through four, presenters said Wednesday (click image at right for larger view). The first floor would be dedicated to street-level retail, and the fifth through eighth floors would offer about 22,000 square feet of office space on each level.
The new buildings proposed at the southwest end of the development would consist of office, apartment and retail space. They'd range in height from three to five stories.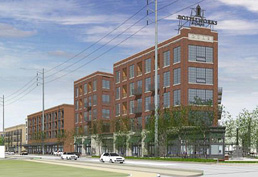 The building nearest College and Massachusetts avenues—or the pie-slice-shaped "point building," as developers have referred to it—would serve as a focal point for the development and include a split-building design with a storefront-lined alley at its midpoint connecting College and Massachusetts. (Click image at right for larger view.)
"I do think we have some of those modern elements we're trying to bring into play with the breezeway," Hendricks CEO Rob Gerbitz said of the  developer's inspiration for the project. "But we like old, and we like to build really solid, good buildings."
In sum, Hendricks' proposal for the Bottleworks development calls for 157 apartment units, 40 for-sale condominiums, 170,000 square feet of office space and 114,000 square feet of retail space for a total 1.2 million square feet of development.
Because of the size and complexity of the project, the IHPC voted in March to review Hendricks' proposal in a series of public hearings separate from IHPC's regular monthly commission meetings.
The former Coca-Cola bottling plant, constructed in 1931, served as the Indianapolis Public School Service Center since 1971. IPS approved a recommendation to sell the 11-acre former coke bottling plant and IPS bus yard to Hendricks Commercial Properties in May 2016.
Already known in Indianapolis for its $30 million Ironworks development at East 86th Street and Keystone Avenue, Hendricks is working with Eppstein Uhen Architects, as well as locally-based Ratio Architects, on the Bottleworks project. The total project, if approved, would be constructed in five phases and could take between five and 10 years to complete.
Wednesday's meeting was the third of four public hearings on Bottleworks design. At next month's hearing, the Bottleworks project will be heard in its entirety. Hendricks is expected to present final revisions to the project as requested by the IHPC before the commission makes its final vote.
"I'm going to put on a slow-cooker recipe so that dinner will be ready no matter how late I get home," IHPC member Bruce Stauffer said of the July meeting. "We'll go as late as we need to to try and resolve things."
Wednesday evening's presentation was well-received by neighbors in the Chatham Arch historic district. Many praised the proposed architectural style and the responsiveness of developers to hear community concerns.
However, traffic and building-height became the main focuses of the evening's hearing. Some worried the eight-story office building could overpower homes in the historic area and its entrance onto Bellefontaine could cause backups at the intersection of 10th Street and Bellefontaine Avenue.
"The intersection is crazy," said Tom Shaefer, of the Chatham Arch Neighborhood Association. "We feel that we must have a good flow of traffic to keep it moving."
Developers said they were open to suggestions to move the parking garage entrance and exit to the 10th Street side to allow traffic to spill out onto a larger artery.
The Department of Public Works has scheduled an internal meeting Friday to discuss this and other infrastructure considerations for the development.
Please enable JavaScript to view this content.