The Indianapolis Parks Foundation and Downtown Indy in November 2014 announced an effort to transform a sliver of land along the Central Canal into a downtown park.
Nearly three years later, the one-acre parcel between West Saint Clair and West Walnut streets adjacent to the USS Indianapolis memorial still sits empty. (See top image for view of proposed park looking south to downtown; click for larger view.)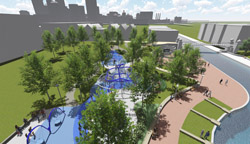 But Jenny Burrough, the foundation's vice president of development and public relations, tells Property Lines that the project is still in the works but was delayed by a lack of donated funds.
"We had a few funders that showed interest, but it didn't work out," she said. "So, we had to regroup and start over."
The foundation in 2014 estimated the cost of the project to be $800,000. It since has raised the goal to $1.5 million, after considering increased construction costs and the additional expense of designing a park on a tight space that features three different elevation changes, Burrough said.
More than $700,000 has been raised so far, she said, with an additional $1.2 million in pending requests for contributions.
The foundation hopes to secure funding by the end of the year and break ground in the spring. In September 2018, the city is set to host the Ashburn, Virginia-based National Recreation and Park Association's annual conference, and the foundation is aiming to have the park finished by then.
"We'd like to showcase this as one of our premier projects that we share at that event," Burrough said.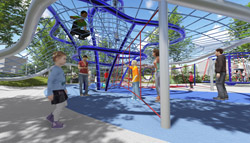 The project will include utility and curb and asphalt work, parking areas, playground features, a shade structure, plantings, irrigation, furnishings, and lighting and signage. (Click second and third images for larger views of renderings.)
The request for qualifications attracted interest from 17 design firms, from which Chicago-based Hitchcock Design Group was selected. Hitchcock has an Indianapolis office.
Interested donors can contact Burrough at the foundation.
"Downtown is a play desert; there are no public playgrounds" she said. "We think it's really critical and important."
Please enable JavaScript to view this content.