The Vine & Table wine and gourmet food shop on Monday opened its second location, at the busy north-side intersection of College Avenue and Kessler Boulevard.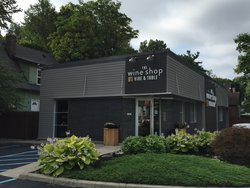 Vine & Table opened in Carmel in 2007 and was founded by Joe Husar, the owner of Kahn's Catering and meeting hall Montage at Allison Pointe. He sold the business last year to Big Red Liquors, which is undertaking the expansion.
Big Red renovated the 2,000-square-foot, one-story building at the southeast corner of College Avenue and Kessler Boulevard. The structure last housed the Broad Ripple Animal Wellness Center.
Called The Wine Shop by Vine & Table, the new store is open from 10 a.m. to 8 p.m. Monday through Thursday and 10 a.m. to 9 p.m.  Friday and Saturday. It boasts a selection of 500 wines in all categories, and offers classes, tastings and weekly educational sessions, in addition to free local delivery.
"The Wine Shop by Vine & Table is going to be an incredible asset to wine drinkers in this city," Wine Director Jim Gooley said in a written statement. "Our focus on personalization and education is what makes this unique to the city."
A city zoning board in February voted in favor of granting Big Red a variance to open the wine shop, despite a recommendation to deny the request from city zoning staff.
Staff argued that a liquor store shouldn't be located so close to a protected district, the Meridian-Kessler neighborhood, and that the area master plan advised against an overreliance on alcohol outlets in the area.
But the Meridian-Kessler Neighborhood Association supported Vine & Table, arguing that it didn't view the wine shop as a liquor store.
Big Red is leasing the space from local developer PK Partners, which bought the building in August 2015.
Please enable JavaScript to view this content.