We'll kick this roundup off with a local retailer expanding to Clay Terrace.
• The Shop, a retailer of vintage and Indiana-themed T-shirts, is opening a second store, at Clay Terrace in Carmel.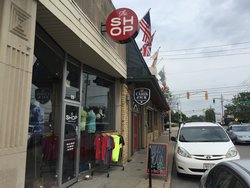 Majority owners Brian Kelly and Alex Janeczek opened The Shop in 1,600 square feet of space in May 2015 at 920 Broad Ripple Ave. At Clay Terrace, they'll take 1,200 square feet last occupied by pet supply store Moochie & Co., with plans to open by September.
The Shop started selling T-shirts online in 2011 under the Hayes & Taylor name. In 2015, Kelly quit his job at Salesforce to focus on his business after merging it with Janeczek's Brick Shirt House.
In January, the two moved screen-printing operations from the Broad Ripple store to the Circle City Industrial Complex to give them more retail space.
The Shop holds licenses from Butler, Indiana, Indiana State, Miami, Purdue and Xavier universities, as well as from the Indianapolis Motor Speedway, Indy Eleven and the Negro Leagues Baseball Museum.
Also in Carmel:
• Stompin Barley opened in Carmel at 14560 River Road No. 140 south of East 146th Street. Stompin Barley offers locally sourced small plates and entrees created by its chef, in addition to craft beers and wines from around the world. Entrees range from the $16 angel hair shrimp scampi to a $28 8-ounce filet.
Downtown:
•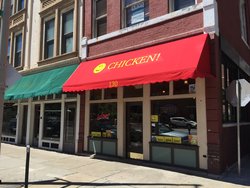 Happy Chicken is now open at 130 N. Delaware St. across from City Market, giving it two locations in the city. The other is at 6693 E. 82nd St. in Castleton.
• Fresh Pop'd Popcorn Co. at 120 E. Market St. has moved to Circle Centre mall, on the second floor in front of Kay Jewelers and Verizon Wireless.
Elsewhere:
• Biscuits Cafe at 1035 Broad Ripple Ave. is expanding into some of the adjacent space formerly occupied by Broad Ripple Laundry and Tan. At Biscuits, huevos rancheros and enchiladas share the menu with pancakes and burgers.
• Stacked Pickle has agreed to take space at The Shops at Perry Crossing in Plainfield. The location will be the 10th for the locally based restaurant owned by former Indianapolis Colts linebacker Gary Brackett.
Brackett said the outpost in Plainfield should open in November. The newly constructed restaurant will take 3,860 square feet in front of the movie theater next to Hot Box Pizza.
 
Please enable JavaScript to view this content.