The University of Indianapolis has unveiled the design of a roughly $30 million health sciences center to be built adjacent to its south-side campus.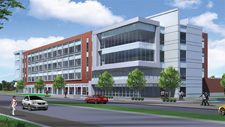 UIndy is seeking several variances for the four-story, 80-foot-tall building, which would eclipse the maximum 35 feet permitted in the residential neighborhood. The Metropolitan Development Commission's hearing examiner is set to hear the variance requests Thursday.
UIndy would occupy most of the 134,000-square-foot building. It is negotiating with developers to finance the center and then lease it back to the school.
If all goes as planned, work would begin on the facility at the southwest corner of Hanna and State Avenues in late summer with an opening in August 2015.
The programs to be housed in the new health sciences center—nursing, physical therapy, occupational therapy, psychology, kinesiology and athletic training—account for more than half of UIndy's enrollment of 5,400.
Several homes originally occupied the space where the facility would be built. The university gradually purchased the homes and demolished them in favor of a parking lot for the college. A campus police administration building also sits on the property and would be torn down. The department would move to another location on campus.
IBJ health care reporter J.K. Wall first wrote about the university's plans for a health sciences center in March.
The architect for the project is CSO Architects.
Please enable JavaScript to view this content.