The Ironworks Hotel Indy that's about to open on the north side is awash in features paying homage to its industrial name—from the building's overall design to the artwork and even down to the bell carts.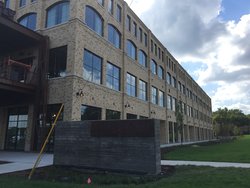 Beloit, Wisconsin-based Hendricks Property Group is developing the $20 million, 120-room hotel (see top image) along East 86th Street west of Keystone Avenue and adjacent to its similarly named Ironworks retail-and-apartment project.
Before the mid-September opening, Hendricks opened the doors of the hotel on Tuesday to select media, providing a sneak peek of what guests can expect. The vibe is broadcast by its signage, which has a very structural and mechanical feel (see second image).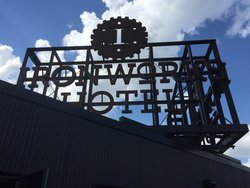 The hotel will feature 15,000 square feet of street-level retail space, including Blue Sushi Sake Grill, Massage Heights and Cunningham Restaurant Group's Rize. Cunningham also will operate Provision in second-floor retail space.
Blue Sushi, however, isn't expected to open until December. That leaves space for one more restaurant, a fast-casual concept that Hendricks hasn't announced yet, said Amy Isbell-Williams, the hotel's general manager.
The hotel's turn-of-the-century-inspired industrial decor is evident throughout the five-story building.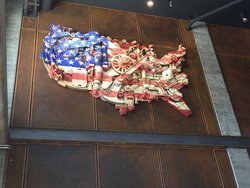 The flag-draped, three-dimensional representation of the United States that welcomes guests in the lobby (see third image) is from Beloit artist Jim Spelman and is made of old paper mill molds scavenged from a closed foundry.
Light fixtures in the lobby area are made from vintage battery boxes, and the bell carts were assembled with repurposed piping. Lobby walls feature wood salvaged from actual barns in Wisconsin, and the tile behind the front desk is chicken wire encased in glass.
Ironworks sports three conference rooms and a fitness center. Daily room rates will start at $139, with the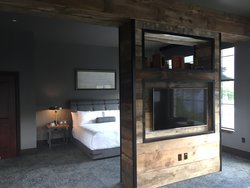 largest, an 800-square-foot suite on the top floor with a private terrace, running $1,500. The decor in the rooms is consistent with the rest of the hotel, featuring reclaimed wood (fourth image).
The hotel is the second in Hendricks' portfolio but the first that it constructed from scratch. The other, in Beloit, was repurposed from the old Beloit ironworks factory—hence the name.
Hendricks owns more than 12 million square feet of real estate in 33 states, including five buildings in Indiana.
The company also is developing the $260 million Bottleworks mixed-use project in the former Coca-Cola bottling plant on Massachusetts Avenue downtown. That project will include a 136-room West Elm Hotel, but Hendricks won't manage it. The Ironworks hotel will be managed by Hendricks entity Geronimo Hospitality Group.
Please enable JavaScript to view this content.