The downtown Barcelona Tapas restaurant has closed.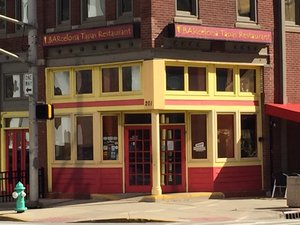 Located at 201 N. Delaware St., the Spanish-inspired eatery served its last customers on Sunday.
A sign on the door says: "We are sad to announce Barcelona Tapas Restaurant will be permanently closing for business, effective immediately. We want to thank each and every one of our loyal patrons for all they've done for us, and for not only being our guests but becoming our friends and family."
Owner Frank Schmitz, who operates another Barcelona Tapas in St. Louis, opened the Indianapolis location in 2007, in the 3,800-square-foot space at the northeast corner of Ohio and Delaware streets.
Schmitz did not return a phone call from Property Lines on Tuesday morning seeking comment.
In a press release issued Tuesday afternoon, Schmitz did not specify a reason for the closure.
"It was my greatest hope that we could continue to operate and grow Barcelona Tapas Restaurant in Indianapolis, now and for the future," he said. "Unfortunately, due to a variety of factors we are unable to keep the Indianapolis location open."
According to the release, concerns regarding reservations, unused gift cards or other restaurant business should be directed to Barcelona's main office in St. Louis by calling 314-802-7430. The Indianapolis closure does not affect operations at the St. Louis location.
Barcelona's menu featured such small-plate classics as mussels, jamon and tortilla Espanola, in addition to Spanish favorites paella, sea bass with Romesco sauce and bacalao.
A Spanish weekday lunch buffet was available for $9.95 per person.
Other tenants of the building include Crackers Comedy Club and India Garden.
Please enable JavaScript to view this content.