Here's what's cooking in our latest roundup:
• Condado Tacos is expanding to Indianapolis from its home base in Columbus, Ohio, and has signed a lease for one location, in Broad Ripple, and is closing in on another, in downtown.
Owner Joe Kahn told Property Lines he'll open first at 838 Broad Ripple Ave., in the space last occupied by Village Tap Room and formerly Chumley's. He's targeting May 5, to coincide with Cinco de Mayo.
"It's the traffic and the demographics that we love," he said. "It's just such a vibrant place."
Though the downtown lease isn't signed yet, Kahn was confident enough to reveal the location—in the Penrose on Mass apartment project that's under construction on the site of an old firefighters' credit union and fire station.
That site could open next fall, he said.
Kahn, who helped create Barrio in Cleveland, left to launch Condado in 2014. The double-decker, build-your-own-taco concept has grown to three locations in Columbus, in addition to another in Pittsburgh. Besides Indianapolis, Kahn also is targeting Cincinnati for expansion.
Patrons to Condado select items tableside from the menu to build their tacos—from shell to protein to toppings to salsas and sauces. Tacos are priced at $3 each. For $4 each, diners can choose from a list of eight standard selections (surf n' turf tacos runs $5).
All ingredients are fresh and made in-house daily, Kahn said.
The menu also boasts an impressive array of beer, whiskey, tequila and margaritas.
On the trendy burger front:
• Burger Study, the high-end burger restaurant from Craig Huse, is set to open Monday in Circle Centre mall along Georgia Street.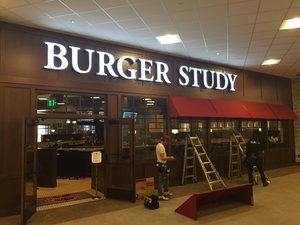 Huse, the operator of downtown icon St. Elmo Steak House and offshoot Harry & Izzy's, first told IBJ in September 2016 about his plans for Burger Study.
He described Burger Study as a "full-service burger bar and restaurant delivering an adult dining experience."
• Clay Terrace in Carmel expects in November to add to its tenant mix Prodigy Burger and Bar. Prodigy is a new concept from the owners of the Prime 47 steakhouse, which has locations at the mall and in downtown Indianapolis at 47 S. Pennsylvania St.
The family-friendly restaurant will feature menu items ranging from small plates, craft burgers and sandwiches, in addition to a $5 kids' menu, complemented by 25 televisions and a children's play area.
Prodigy will join at the mall new arrivals Closet Candy and The Shop.
• In case you missed it in North of 96th, Burgerhaus has filed plans to open at 98 First Ave. SW.
The five-year-old Valparaiso-based restaurant started expanding in 2014 when it opened in downtown Indianapolis, at 335 W. Ninth St. in the 9 on Canal apartment project. It then added its third location, in Schererville, in 2016. The Carmel eatery will be its fourth location overall.
Also:
• CoreLife Eatery, a fast-casual dining chain focused on healthy, low-carb meals, opens Friday in the Shoppes at River's Edge retail center at 4335 E. 82nd St., in the Lake Clearwater area east of the Fashion Mall at Keystone.
CoreLife says the location is the first of 10 slated to open in Indiana over the next four years, seven of which will be in Indianapolis. IBJ first reported on CoreLife's plans in May.
The CoreLife menu is based on bowls of natural ingredients, broken into three main categories: greens, grains and bone broths. Patrons can choose from several preconceived concoctions in each category or construct their own dishes with combinations of vegetables, meats, cheeses, spices and house-made dressings.
CoreLife launched in Syracuse, New York, in 2015 and now has 20 locations in New York, Illinois, Indiana, Kentucky, Michigan, Ohio, Pennsylvania and Utah.
• Verizon on Friday opened three "next gen" stores in Indianapolis and one in Plainfield.
They are located at: 350 Massachusetts Ave.; 5320 E. 82nd St.; 8760 Michigan Road; and 290 S. Perry Road in Plainfield.
"Think of it as the grab and go convenience of a newsstand, the sense of community from your local book store, along with the frictionless nature of ecommerce all in one location," Verizon General Manager Brennen Byrd said in a written statement.
Store hours are 10 a.m. to 8 p.m. Monday through Saturday and 11 a.m. to 6 p.m. Sunday.
Please enable JavaScript to view this content.