Portillo's is planning to open a second Indianapolis-area location, this time giving south-side fans of Italian beef and hots dogs reason to rejoice.
A mainstay in the Chicagoland area for more than 50 years, Portillo's welcomed thousands of patrons Sept. 28 to a 9,000-square-foot restaurant at 9201 E. 116th St. in Fishers. It's the chain's first outpost in central Indiana and a prime example of its recent plans for national expansion.
Portillo's now wants to build a restaurant at 8159 U.S. 31 South, on the site of a Don Pablo's Mexican Kitchen that closed a year ago. The structure would be torn down to make way for the new restaurant, according to a filing with the city of Indianapolis.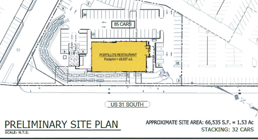 The restaurant would be located along U.S. 31 South, north of County Line Road. (Image courtesy city of Indianapolis)
A city zoning board is set on Tuesday to hear a request by Portillo's for exceptions to development standards, including decreasing the property's front setback from 10 feet to 5 feet and accepting some unusual visual elements.
Department of Metropolitan Development staff are recommending the zoning board deny the request. But they say they would recommend approval if the petitioner could meet a few conditions.
Portillo's isn't listed as the petitioner on the request, but the restaurant's name is prominent on a preliminary site plan included in the filing. (Click on image above for larger view.) A city planner involved in the case confirmed to IBJ that the restaurant would be a Portillo's, if the request is approved.
Officials from Portillo's declined to discuss the location.
"Following the successful opening of our Fishers location last month, Portillo's continues to explore location options throughout the state," Nick Scarpino, vice president of PR and marketing, said in a statement emailed to IBJ. "However, we do not have any news to share at this time regarding new restaurants."
Portillo's was founded as a hot dog stand in Villa Park, Illinois, in 1963, and grew into a beloved chain of eateries confined mostly to the Chicagoland area. However, in recent years, the chain has begun spreading into other states. It is known for its Italian beef sandwiches and Chicago-style hot dogs.
Founder Dick Portillo sold the company to Boston-based Berkshire Partners for an estimated $1 billion in 2014, and the new owners began planning to expand the chain to all 50 states. Portillo remains active in the company.
Portillo's has 52 restaurants in Illinois, Indiana, Wisconsin, California, Florida and Arizona. Besides the Fishers restaurant, the only current Indiana location is in Merrillville, which opened in 2006. The company confirmed plans earlier this week to open another Indiana location in Mishawaka sometime next year.
According to Nation's Restaurant News, Portillo's restaurants far outperform their peers in the fast-casual market, with annual sales of $8 million to $9 million per location. By comparison, a typical Chili's Grill & Bar does about $3.5 million in annual sales, and a Chipotle Mexican Grill does about $2.5 million.
Food critics and reader surveys regularly rank the chain's Italian beefs and hot dogs among the best in Chicago.
In a 2015 IndyStar poll that asked local residents which out-of-town franchises they wanted most in Indianapolis, Portillo's came in third, behind Ikea and In-and-Out Burger.
Please enable JavaScript to view this content.