One of the city's oldest men's clothing stores is going out of business.
Style Store for Big and Tall, at 2432 E. 62nd St. in the Glendale area, is selling its remaining inventory after a 100-year run and three generations of ownership.
"It's time to move on," owner Joe Zuckerberg, 80, said in a press release. "Ironically, we've been seeing a lot of new customers in the store lately; young fellows who never knew the store was here. They're starting to find us again."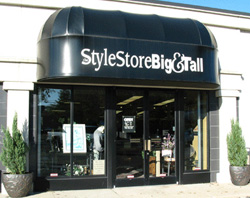 But Zuckerberg has finally decided to retire, and his son, Mark Zuckerberg, a local bankruptcy lawyer, doesn't have the time to keep the family business going, Mark Zuckerberg told IBJ.
"I grew up there," he said. "He's always talked to me about taking it over."
The store will begin its going-out-of-business sale on Nov. 1 and will continue it until the remaining inventory is sold.
Joe Zuckerberg's grandfather started the business with $100 and drew attention to his goods by hanging them outside the store. Joe joined the business in 1958, after graduating from college.
Style Store for Big and Tall has been at its 62nd Street location for 45 years. A second store, that provided uniforms to police officers and firefighters, led the Zuckerbergs into the big-and-tall niche.
At one time, the family operated five men's clothing stores in the metropolitan area, to meet the growing demand for business attire during the 1970s, '80s and early '90s. Suits and sportscoats, however, slowly have given way to polo shirts and other casual work garb.
"Things have changed on us now," Joe Zuckerberg said in the release. "People don't dress up anymore like they used to."
The store is popular with many players from the Indiana Pacers and Indianapolis Colts, said Mark Zuckerberg, noting that former 7-foot, 6-inch Houston Rockets center Yao Ming also once paid a visit.
Style Store has six employees, including veterans Steve Hoaglin and Carol Rodholm, who have worked there for 37 years and 45 years, respectively.
Please enable JavaScript to view this content.