Lots going on in the retail world as we close out October:
• West Fork Whiskey on Nov. 3 is set to open its cocktail bar and production facility at 1660 Bellefontaine St. (see image below), just north of a stretch of East 16th Street that's experiencing a retail rebirth.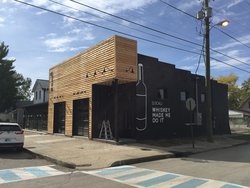 Besides selling bottles directly, West Fork will offer a cocktail menu, whiskey flights, and traditional pours of whiskey, as well as food from neighboring Cannonball Brewing.  
West Fork bills itself as a locally sourced whiskey distillery. Started in 2014, it currently offers three products: 2 Hour Delay, an un-aged whiskey made from Indiana corn; Double Down, an Indiana corn whiskey aged in used bourbon-barrels; and The Colonel, a wheat-centric bourbon.
David McIntyre and brothers Blake and Julian Jones launched West Fork three years ago. It had been operating from a warehouse at 86th Street and Zionsville Road on the city's northwest side and selling directly to liquor stores and restaurants.
• BurgerFuel is taking 2,000 square feet at 333 Massachusetts Ave. next to Walgreens in the 3 Mass condominium development, said Steve Delaney of CBRE, who brokered the deal. It should open by April, he said.
BurgerFuel opened its first Indianapolis eatery in late May at 6320 Guilford Ave. in Broad Ripple, taking the former Quality Leasing building across from The Vanguard.
What's significant about the Broad Ripple location is that it's the first BurgerFuel to open in the United States. The New Zealand-based chain has about 90 locations in six countries, with 54 of those in its home country. It was founded in Auckland in 1995 and has locations in Egypt, Kuwait and the Gold Coast.
• Books & Brews' Carmel location opens Friday at Carmel City Center. It's the fifth location for the Indianapolis-based brewpub and used-book retailer, which also has taprooms on the northeast side and in Zionsville, Brownsburg and Muncie.
Early this month, the fast-growing Books & Brews announced plans to open a location near the University of Indianapolis, in the former Shelby Bowl building at 3808 Shelby St.
Alex and Lori Stanley are the franchisees of the Carmel brewpub. The UIndy location also is franchised.
In Irvington:
• Batters Family Pancake House hopes to open on Saturday to participate in the day's festivities surrounding the popular Irvington Halloween Festival, said Margaret Lawrence Banning, director of the Irvington Development Organization.
The location at 5543 E. Washington St. would be the first for the locally owned eatery. Co-owner Timothy Ballinger couldn't be reached for comment. But a construction permit says the restaurant will take 4,000 square feet.
That's the space formerly occupied by the Bitter Sweet breakfast and lunch spot, resale shop Day Ja Voo and the Irvington Picture Frame Co. The latter moved to 5410 E. Washington St.
• Also, mod-Mexican restaurant Ixca opened Oct. 20, taking 5537 and 5539 E. Washington St.—part of the space last occupied by Chef Dan's Southern Comfort Restaurant.
• And Vietnamese restaurant Super Bowl Pho in Westfield is going through the permitting process to open its second metropolitan-area restaurant, at 5603 E. Washington St., where Cafe Carib operated, Banning said.
Elsewhere:
• ezMarket, a new grocery store at Eagle Creek Centre at 6920 Eagle Highlands Way near West 38th Street and Interstate 465, opens at 10 a.m. Friday. GKS Investments Inc. bought the vacant 17,000-square-foot center in July 2016 and will operate the 7,000-square-foot grocery.
• DeBrand Fine Chocolates opened Oct. 18 in the Shops at River Crossing space last occupied by Aronstam Fine Jewelers. The 2,825-square-foot end cap across from Saks Fifth Avenue in the Fashion Mall at Keystone had been vacant since Aronstam left for Carmel in late 2015.
Cathy Brand-Beere owns DeBrand along with her husband, Tim. They have four stores in Fort Wayne, in addition to mail-order and wholesaling divisions. Bill and Lori Sonner have signed on to operate the Indianapolis location.
• Goodfellas Pizzeria opened its second Indianapolis location on Oct. 20 at 914 Broad Ripple Ave. in Broad Ripple. The Lexington, Kentucky-based pizzeria arrived in the city in April at 545 Massachusetts Ave. in the Millikan on Mass development.
• Massage Heights opened Thursday (Oct. 26) in the Ironworks Hotel on East 86th Street near Keystone Avenue. The San Antonio, Texas-based franchise operates roughly 150 spas in 21 states, the District of Columbia, and Canada. The local is operated by Cristina and Matt Goebel.
• Chipotle in the West Side Shoppes at 10th and Dr. Martin Luther King Jr. streets is preparing to reopen Nov. 5 following an April fire that damaged the strip center.
Closings:
• Mama Irma Fine Peruvian Cuisine at 1058 Virginia Ave. in Fountain Square closed on Wednesday.
A Facebook post said that owner Hilda Cano is retiring after operating the restaurant for six years. Briza's Authentic Mexican Cuisine is set to open in the space Nov. 3, according to the post.
Please enable JavaScript to view this content.