A staple of the Keystone at the Crossing dining and nightlife scene has closed.
Champps at 8711 N. River Crossing Blvd. shut its doors on Sunday, according to Wes Podell, senior vice president at Indianapolis-based PK Partners LLC. PK Partners owns the building that the sports-centric restaurant had occupied since 1995.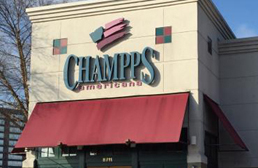 Champps opened in 1995. (IBJ file photo)
"It has been a pleasure to have Champps as a tenant for over 22 years at Keystone at the Crossing," Podell said in an email. "When they opened on the lake in 1995, Champps created a restaurant ambiance that was truly unmatched for many years. While we are sad to see them close, we are excited about the redevelopment possibilities for the nearly three-acre site."
Podell declined to comment on any plans PK Partners might have for the property. Nearby, the company masterminded the River North mixed-use development just north of The Fashion Mall at Keystone. The $80 million River North project along River Crossing Boulevard includes the 196-unit Quarry at River North apartment project, 102,000-square-foot office building, parking garage and 129-room Hampton Inn hotel.
Champps has encountered financial problems in recent years, filing for Chapter 11 bankruptcy protection twice since 2013.
"The writing's been on the wall," said Steve Delaney, a restaurant broker at CBRE who represented both Champps and PK Partners in the original lease deal. "People have been questioning the long-term viability of the company overall. Sales have been declining over several years, and they never really spent any money on that location to fix it up."
Champps was founded in 1984 in Saint Paul, Minnesota, and now is owned by Dallas-based Last Call Guarantor LLC, which also operates the Fox & Hound chain.
Last Call didn't return phone messages on Monday morning seeking comment on the Champps closing.
In 2016, Last Call closed 25 Fox & Hound and Champps locations, after reorganizing its assets under Chapter 11 bankruptcy protection.
Fun Eats and Drinks LLC, a subsidiary of San Diego, California-based Kelly Investment Group, in August of last year acquired the rights to $75 million in debt that Last Call owned.
In a 2013 bankruptcy, Last Call reported $117 million in debt.
Champps also operates a bar and restaurant at Circle Centre mall, which remains open. The chain has 11 locations in eight states, mostly in the Midwest and East.
Please enable JavaScript to view this content.