As we veer toward Thanksgiving, here are some retail and restaurant morsels to chew on.
• Kroger on Thursday morning flung the doors open to its downtown grocery at 227 W. Michigan St., in the 50,300-square-foot space formerly occupied by a Marsh store. It's Kroger's first grocery in downtown's core.
Property Lines reported last month on Kroger's progress with the new store.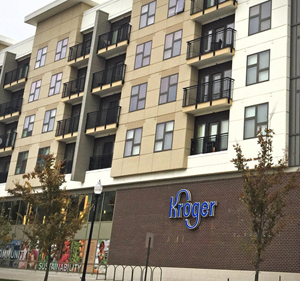 The downtown Kroger is the first to open of the 11 Marsh locations the Cincinnati-based company took over. Kroger said it spent $1.9 million to upgrade the downtown store at the Axis apartment development (see accompanying image), with roughly half the amount earmarked for technology improvements.
Also downtown (or near downtown):
•  Broken English taco bar opens Thursday in the space at 141 S. Meridian St. vacated by Tilted Kilt Pub & Eatery.
The Chicago-based restaurant now has four locations. It chose downtown Indianapolis for its first spot outside of the Windy City.
The casual taqueria and bar features about 10 different traditional and modern tacos and other Mexican entrees, with menus for brunch, lunch, dinner and the bar. The bar features sangria, margaritas and a large number of Mexican beers and specialty cocktails.
Taco prices range from $7 to $9 for a serving of two. Other entrees are priced from $8 to $13.
• 22nd Street Diner shut its doors Wednesday, according to a post on the restaurant's Facebook page.
"We are incredibly sad to announce that effective today, 11/15, 22nd Street Diner is permanently closed. This decision does not come lightly and without understanding the impact it will have to multiple lives during the holiday season," the post said.
22nd Diner opened in July at the northeast corner of Delaware and 22nd streets in the space formerly occupied by Asian-inspired LongBranch. It closed in May.
The diner was operated by owners of The Koelschip on North Delaware Street in Fall Creek Place and MashCraft Brewery, with support from Shoefly Public House owners Craig and Kait Mariutto. The Mariuttos were owners in LongBranch, along with Scott Lowe.
• Soup Shop debuts Thursday in the food court of Circle Centre mall, taking the space where Lite on the Mayo operated.
Owner Rakesh Sharma of Carmel will feature a rotating selection of up to eight soups, plus flavored rice and stir fry wraps.
• Stixx opened Nov. 7 at 361 Indiana Ave. in the building that last housed Bourbon Street Distillery.
Property Lines reported in August that the Pho restaurant and Asian cigar lounge had intended to take the space. Stixx operator Steven Phan was a co-owner of Bu Da Lounge, a cigar bar at 148 E. Market St. that offered Asian fusion cuisine. It closed in late April.
On the pizza front:
• Mod Pizza is hosting a grand opening Thursday at its store in the new strip center at 8505 Keystone Crossing. Doors open at noon, and the first 52  customers will receive a free pizza or salad. The fast-fire pizzeria also will hold a drawing for free pizza for the year.
The Seattle-based chain has more than 200 locations in the United States and United Kingdom. The north-side restaurant is its first in Indianapolis.
• Noble Roman's Craft Pizza & Pub is set to open Friday at 6428 Whitestown Parkway in Whitestown. It's the second pizza pub from Indianapolis-based Nobles Roman's. The first opened earlier this year in Westfield. Noble Roman's also has filed a permit to open a pub at 11715 Allisonville Road in Fishers.
 
Also in Boone County:
• Noah Grant's Grill House and Oyster Bar opened Tuesday at its new location in downtown Zionsville, in what's known as the Carter Building at 91 S. Main St. The seafood and sushi restaurant previously was located at 65 S. First St. That location had been closed since late September, due to a fire that damaged its building after plans to move already were under way.
• Moe's Southwest Grill opened Nov. 9 at 11036 N. Michigan Road in Zionsville between 106th and 116th streets.
The Atlanta-based chain serves up southwestern staples, from burritos to nachos, and has four locations in the Indianapolis area.
Closings:
• In case you missed it, Champps at 8711 N. River Crossing Blvd. shut its doors on Sunday, after a 22-year run. The downtown location at Circle Centre mall remains open.
Please enable JavaScript to view this content.