Husband-and-wife duo Dan and Julie Johnston have melded their ambitions for creative meeting and event space into VisionLoft, set to open downtown in March.
The couple bought the single-story building at 235 N. Delaware St. in October (see image at right) from partners of the McClure McClure & Davis law firm and plan to invest $1 million in the structure, including purchase price.
The 5,000-square-foot building dates to the turn of the 20th century, Dan Johnston said. But a more modern façade and the drywall and drop ceilings inside helped to shield its history.
The Johnstons have removed the outdated interior renovations, exposing the original brick walls and bringing the building back to its former glory.
"It's a perfect location," Dan said. "We wanted to be right off Mass Ave, if we could."
The building sits less than a block south of the foot of Mass Ave and is a few doors down from the Wheeler Mission. The couple initially had planned to rent space for their center. But after exploring their options and finding the building on North Delaware (with the help of Matt Langfeldt at the local office of Colliers International), they chose to buy instead.
Dan, 51, has spent the past 25 years selling commercial insurance, and Julie, 54, is director of learning spaces at Indiana University, leading teams that design classrooms. (See image of the couple below.)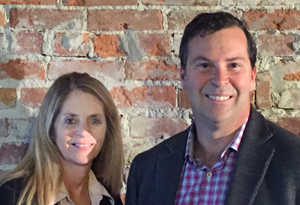 Neither has plans to forego their day jobs. But with his business acumen and her design skills, the two believe they can offer meeting and event space different than what's currently available downtown.
Their goal: "To bring a creative meeting hub to the city," Julie said. "There's nothing that has the technology already in place."
The space will feature interactive touch and collaboration tools, high-speed wireless, laser projectors and breakout areas, in addition to mobile interactive and glass marker boards.
Fees for meetings will run $350 per hour. Weddings will run $3,500 per event on Fridays and Sundays and $4,500 for Saturdays.
"This is a passion project for us," Julie said. "We are putting our heart and soul into it."
The architect on the project is CSO Architects. A 10-foot plant wall is being designed by Purposeful Design, a near-east side not-for-profit that provides jobs for men whose backgrounds make it difficult for them to find work.
Please enable JavaScript to view this content.