A bounty of retail news to cure your winter blues, starting with a flurry of activity in Castleton:
• Sapporo Japanese Steak House and Sushi has opened in its newly constructed stand-alone building at 5946 E. 86th St. west of Costco and north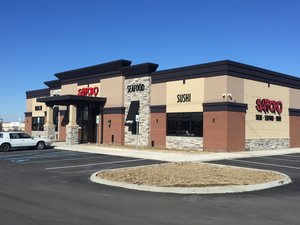 of Castleton Square Mall.
The restaurant replaces the old location at 6342 E. 82nd St. in a strip center south of the mall.
• Gander Outdoors has opened at 5702 E 86th St. in the 55,000-square-foot building formerly occupied by Gander Mountain.
Lincolnshire, Illinois-based Camping World Holdings Inc. acquired the nationwide intellectual property and the rights to the leases for Gander Mountain at a bankruptcy auction in April 2016.
Gander Outdoors will host a grand opening on Saturday. Free pastries and coffee will be available in the morning; and kids can paint a lure from 11 a.m. to 2 p.m. and build a duck call from 1 p.m. to 3 p.m. Customers will receive a gift with purchase, and drawings for Gander Outdoors gift cards will be held throughout the day.
Two other Gander stores, in Greenfield and Fort Wayne, are set to open in March.
• Club Champion, a golf club fitting and building company, has opened a fitting studio at 5025 E. 82nd St.
Club Champion fits, sells and builds custom golf clubs constructed from clubheads, shafts, and grips from Callaway, TaylorMade, Ping, Titleist, PXG, Fujikura, Golf Pride and more.
The studio includes two indoor hitting bays with Trackman launch monitors for analyzing performance, a SAM PuttLab's fitting system and a build shop for repairing and assembling golf clubs by hand.
Established in 2010, Chicago-based Club Champion has 28 studios across the country and plans to add 11 more by summer.
• Blue Sushi Sake Grill opened Feb. 5 on the ground level of the Ironworks Hotel at 2721 E. 86th St. in the Keystone at the Crossing area.
The location is the first in Indiana for Nebraska-based owner Flagship Restaurant Group, and the 13th overall. Others are in in Nebraska, Colorado, Texas, Kansas, Illinois and Kentucky.
To mark the opening, Blue Sushi will offer lunch specials for half price ($6-$8) until March 2.
• Victory Rolls and Baked Goods opened Friday morning in Beech Grove at 702 Main St., about a block east of City Hall.
The bakery is owned by chef Amy Davis Norcross and features classic French pastries with a down-home Indiana spin. Hours are 7 a.m. to 4 p.m. Monday through Saturday.
• Artful Living is set to open in March at Clay Terrace in Carmel.
Owners Ryan and Jeannie Warzynski recently purchased the 17-year-old family owned gift store that originated in Georgia and are moving it to Carmel. The store will be located at the south end of Clay Terrace next to Orvis and Revolution Eyes.
• Brixx Wood Fired Pizza reopened Jan. 29 at The Depot at Nickel Plate in Fishers. The restaurant, which is part of a North Carolina-based chain that offers wood-fired pizzas, salads, pastas, sandwiches and craft beer, abruptly closed in November at 8594 E. 116th St. It is now under new ownership.
• A Jimmy John's sandwich shop has opened at 6420 Whitestown Parkway in Whitestown, in the same strip center where a Noble Roman's Craft Pizza & Pub began serving in November.
The Champaign, Illinois-based franchise has grown to more than 2,700 locations in 43 states.
Closings:
• Good Conduct Lounge & Miss Behavin' nightclub and restaurant at 1001 Broad Ripple Ave. have closed. The duo opened in June, replacing 10-01 Food & Drink.
• Cancun Mexican Restaurant at 6473 N. Keystone Ave. has shut its doors after 17 years in business. A sign on the door directs customers to the 1268 W. 86th St. location.
• Erbert & Gerbert's sandwich shop at 102 E. Carmel Drive in Carmel has closed after less than a year in business. A Facebook post from Tuesday said it is "with a heavy heart that we must close our doors and say goodbye to all of our loyal guests and fans."
The Wisconsin-based chain's Broad Ripple store at 930 Broad Ripple Ave. remains open.
• Also in Carmel, The Quirky Feather Confectionary at 890 E. 116th St. closed on Tuesday.
Its Facebook post said: "We want to thank you for your patience while we worked to get everything sorted out with our electrical and water problems. We have had to make the heartbreaking decision to not re-open."
Please enable JavaScript to view this content.