You wouldn't know it, judging by the federal government's employment data, that three of the five largest hospital layoffs in the nation last year occurred in Indiana.
Even though the state's three largest hospital systems eliminated a combined 2,700 jobs, it created just a blip in the long-term run-up in hospital employment.
You can see the growth in employment in Indiana's hospitals in this chart, courtesy of the U.S. Bureau of Labor Statistics: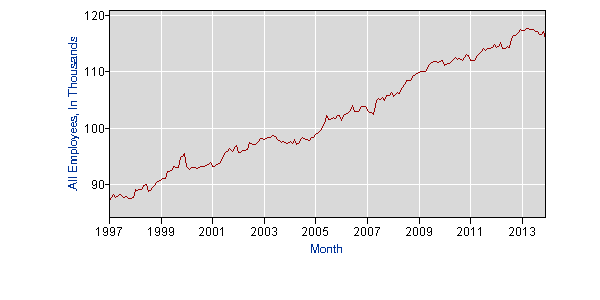 Hospital payrolls December were down 1,500 compared with the same month a year earlier. But employment in physician offices was actually up, by about 900 positions. So overall health system employment dropped by 600.
These are preliminary numbers, so the results could change. But, assuming they don't, the cuts of 2013 had the effect of setting back hospital employment to the level it was at in August 2012.
That's it.
That doesn't make the job losses any easier for the people affected—both those let go and those left with more work to do in their absence.
But, in spite of some other indicators to the contrary, the job cuts don't lead me to conclude that hospitals are fundamentally changing their ways. With 60 percent of hospital expenses tied up in labor, the cuts of 2013 were a slight trim, really, to the high-spending ways of many Indiana hospitals.
Consider that Indiana hospitals employ 17.7 workers for every 1,000 residents in the state. That's a fair bit higher than the 15.2 workers employed by hospitals nationally, per 1,000 U.S. residents. (To calculate these ratios, I used the Census Bureau's estimated 2013 population totals.)
And the rate of employment growth has been faster in Indiana—even after the cuts of 2013—than it has been nationally. From December 1997 to December 2013, U.S. hospital employment grew by 25 percent. But employment at Indiana hospitals during the same period grew 32 percent.
Indiana also employs slightly more people in physician offices than the rest of the country–7.88 workers per thousand residents in Indiana versus 7.84 workers per thousand nationwide. However, the long-term growth in physician office employment has actually been a tick higher nationally than in Indiana—46 percent versus 43 percent, respectively, since December 1997.
There are many reasons why Indiana needs more health care workers than the rest of the country. Hoosiers are, in general, older and sicker than their peers nationwide. As a case in point, consider my story from a couple years ago on Anderson, Ind., being the most expensive metro area in the country for health care spending by private payers—76 percent higher than the national average.
But it's also true that some communities in Indiana feature much higher hospital prices than their peers nationally. Consider this study showing much higher prices in Kokomo and Indianapolis than in comparable cities. Physician prices in those communities are somewhat higher, too, though not nearly as off the charts as hospital prices.
As I showed last year, these factors are causing Hoosiers to spend $5 billion more per year on health care than they would be if health status and prices here equaled the national average. That excess spending costs employers and workers an extra $2.3 billion per year. And it costs the state government about $534 million per year.
No matter who's at fault, that's a problem.
And it's a problem that, in spite of the unprecedented nature of the 2013 layoffs, is far from really being addressed. Those cuts only bought the state a one-year reprieve in the onward march of health care spending.
Please enable JavaScript to view this content.