When I wrote earlier this year about profits at Indianapolis-area hospitals, most of the leaders were in or near the suburbs, particularly Carmel.
That wasn't surprising.
But when the folks Indianapolis IT firm Apparatus kindly offered to help me visualize some of my health care data, one of their multiple representations of local hospital profits sparked an entirely new insight.
While the biggest margins are made in the suburbs, the biggest pile of cash—by far—is made in downtown Indianapolis—at the three campuses run by Indiana University Health.
If you look at the illustration below, that big red dot on the far right—completely separated from any other hospital—is IU Health's combined trio of Methodist, University and Riley hospitals. It also includes profits (or losses, as is probably the case) from the IU Health Saxony Hospital in Fishers, which opened in December 2011.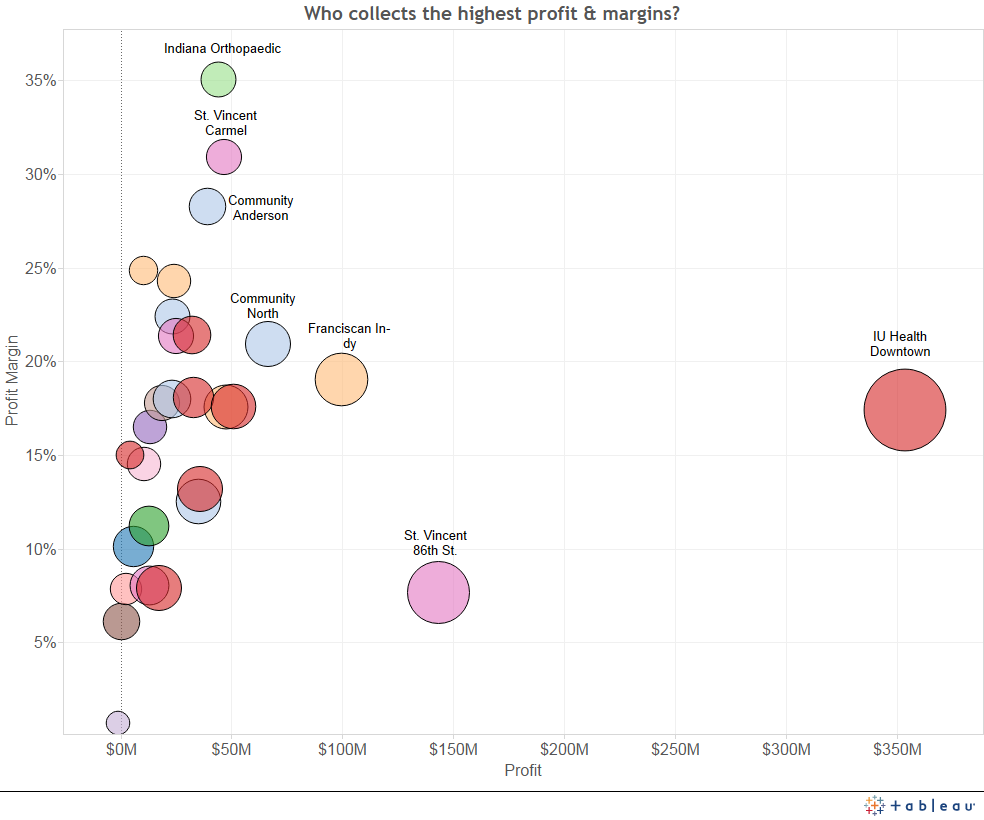 (Image courtesy of Apparatus)
If you click on the image, it will open a web page that allows you to see which hospital is represented by each bubble, its 2012 gains from operations and percent of its operating revenue that was retained as cash.
IU Health's downtown hospitals generated gains from operations of $353 million that year, which is the most recent year for which campus-specific financial data are available for all hospitals.
I will point out that 2012 was a very good year at IU Health and at other Indiana hospitals, as most of them received extra payments from the Indiana Medicaid program and the federal Medicare program. In 2011, gains from operations at IU Health's downtown hospitals were $142 million, although that year included less than one month of operations from the Saxony hospital.
I should also point out that in 2013, things got significantly worse for IU Health's downtown hosptials. Patient visits declined, which prompted hundreds of layoffs. Just this week, WISH-TV got hold of an internal IU Health memo that states Methodist and University hospitals have excess capacity, which could lead to consolidation and repurposing of some functions at those two hospitals.
Also, IU Health did record losses on its physician practices in 2012 of $95 million.
Still, at worst, IU Health's downtown hospitals really only generated cash in 2012 of about $250 million—even if all those losses were attributed to the downtown facilities.
IU Health's cash generation dwarfed anyone else's.
The only hospital that was even close was St. Vincent Indianapolis Hospital, a campus that includes a children's hospital, a women's hospital and a general hospital. St. Vincent-Indy, represented by the big pink dot toward the bottom of the chart, recorded gains from operations of more than $143 million. However, St. Vincent's hospitals, collectively, ship $50 million to $70 million each year to their parent company, St. Louis-based Ascension Health.
IU Health is, by contrast, gets to keep all the money it makes.
Besides those two, no other hospital cracked $100 million in profit from operations. And only two others—Franciscan St. Francis Indianapolis and Community Hospital North—posted operating gains off more than about $50 million. In fact, 32 percent of all operating gains generated by central Indiana hospitals in 2012 came from IU Health's downtown hospitals.
It's true that IU Health's downtown medical center is unique in the state.
It includes one of the state's two top-level trauma centers, at Methodist Hospital, where accident victims from around the state are flown in by helicopter.
It includes Riley Hospital for Children, which has numerous nationally ranked pediatric programs.
It is where a huge portion of the training of Indiana's next generation of doctors happens, under the faculty of the IU School of Medicine.
It includes one of the nation's 10-busiest organ transplant centers.
In 2012, IU Health's downtown hospitals treated 58,795 patients, for a combined total of more than 364,000 days, according to data filed with the Indiana State Department of Health. Its downtown emergency rooms had nearly 167,000 visits.
So, given all that, maybe it shouldn't surprise us that those hospitals make a lot of money.
I have heard IU Health CEO Dan Evans point out many times over the years that his hospital system needed to build new hospitals in Avon, Carmel, Fishers and Lafayette because they would attract more private-pay patients and thus have higher profit margins. Those outlying hospitals would also generate lots of referrals to the downtown campuses.
"Downtown eats capital," Evans told me in a 2010 interview in his office at the head of the downtown Canal. "Just look out the window."
The downtown hospitals do require lots of capital to run. They produce a lot, too.
Please enable JavaScript to view this content.