The national news was filled with stories this week about how health care spending has shifted into a slower growth pattern.
That's good news for the folks who pay the bills for health care—taxpayers, governments, employers, workers, consumers.
Over at Vox, Sarah Kliff wrote a high-spirited piece headlined, "Five reasons health care is no longer seen as monstrous budget buster."
Unfortunately, this trend might be skipping over Indiana.
In a remarkable new report last month, the Bureau of Economic Analysis published consumer expenditures by state for health care and other categories from 1997 to 2012.
It shows that out of the total amount of money Hoosier consumers spend each year, a larger chunk of it goes to health care than is true for the average American. (Which jibes exactly with what I said last year.)
To be precise, Hoosiers devote 18.4 percent of their spending to health care, compared with 16.6 percent for the average American. (See the percentage spent on health care for each year in the chart below.)
What's that costing us? About $3.8 billion per year more, or about $585 per person per year, than if Hoosiers spent the same percentage of their budgets on health care as Americans overall.

But what's most worrisome is the trend. That $3.8 billion gap has opened up almost entirely in the past 15 years. The BEA report shows that in 1997, Hoosiers and Americans spent almost exactly the same percentage of their budgets on health care.
About half of that appears due to the slower growth in incomes in Indiana. Hoosiers' overall spending grew 4.4 percentage points less than Americans' spending during that 15 years.
But actual dollars spent on health care actually rose faster in Indiana than the rest of the country—4.2 percentage points faster.
Also worrisome is that Indiana does not appear to be enjoying the moderation in health care spending the rest of the nation is. After a steeper-than-average plunge in health care spending in 2008, the year-to-year growth in Indiana picked back up, hitting 6.0 percent in 2012, versus 4.5 percent for the nation.
You can see Indiana's year-over-year increases in health care spending accelerating past the rest of the nation's in the chart below.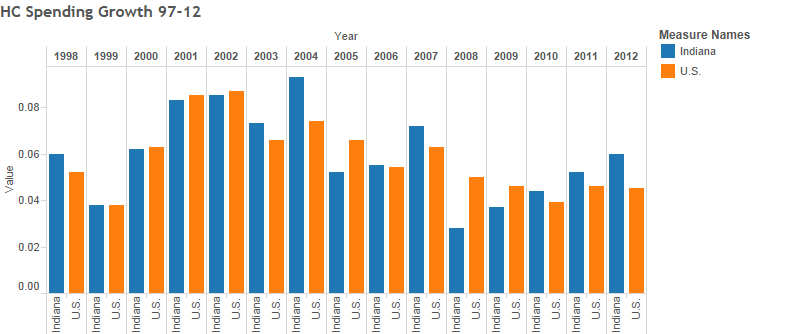 There certainly are signs that health care spending slowed in Indiana in 2013, the year the recent national reports are based on. Local hospitals saw an abrupt drop in patients, causing them to slash staffs.
That's significant, since hospitals are the highest-cost part of the health care system.
But if the trend of 2009 to 2012 continues, Indiana could continue to see a repeat of the high health care spending growth of the 1990s and 2000s, while the rest of the country gets a bit of a breather.
Please enable JavaScript to view this content.