It's nothing new to hear that small employers have felt crushed by health insurance premiums.
I usually have written about this with phrases like, "Health insurance premiums have been rising at twice the rate of inflation," or "Health insurance premiums are gobbling up a greater and greater share of employers' revenues."
As if the problem were like a steady, persistent pain.
But some new data show that the pain has been anything but steady. Instead, health insurance premiums have jumped around—spiking one year and then declining the next.
The charts below show that these premium spikes have been uncertain and volatile—making them an especially hard problem to manage through—far harder than I realized before crunching these numbers. I compare annual rise in health insurance premiums to the average Midwest inflation for each year—just to give you an idea of roughly how much employers' other costs were rising.
And for most small employers in Indiana, the problem has been worse than in the rest of the country. (A familiar storyline by now, isn't it?)
For Indiana employers with fewer than 10 workers, health insurance premiums have risen 11.5 percent, on average, from 2001 to 2013. That ranked second-highest among all states and Washington, D.C., according to data included in a recent report by the Urban Institute and the Robert Wood Johnson Foundation.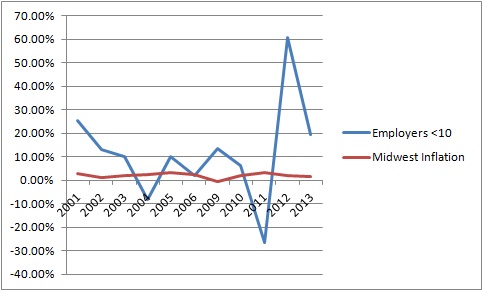 For Indiana employers with 25 to 99 workers, health insurance prmiums rose an average of 8.5 percent per year from 2001 to 2013. That ranked sixth-highest in the nation.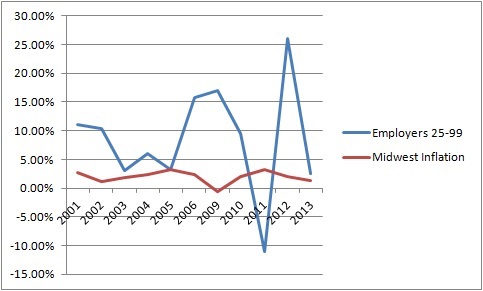 Hoosier employers in between those two groups—those with 10 to 24 workers—had a better time of it. Their health insurance premiums rose 3.7 percent per year from 2001 to 2013. That ranked 47th nationally.
Although, as you can see below, it was a wild ride getting to that 3.7 percent per-year average.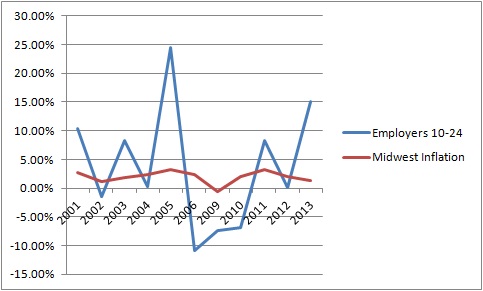 The national average increase for all three groups of small businesses ranged from 6.1 percent to 6.2 percent. Yet that was still three times faster than the rate of inflation during these same years.
What will be interesting to see is whether Obamacare alleviates or aggravates this problem for small employers. Recent research found that the Affordable Care Act led to health insurance premiums in the individual market that were 31 percent higher than they would have been without the law, due to Obamacare's new coverage requirements, new taxes and other changes. Yet the year-over-year increase in premiums in the Obamacare exchange in Indiana is averaging just 5 percent heading in to 2015.
If things play out similarly for small employers, they may pay more for health insurance, but they might also get some relief from the wild ups and downs of the past decade.
Note
Observant readers will notice that my charts do not include data for the years 2007 and 2008. That is because the source of information used by the Urban Institute and Robert Wood Johnson Foundation—the Medical Expenditure Panel Survey-Insurance Component—did not report results for 2007, making it impossible to produce percentage increases for that year and the next. My inflation data, drawn from the Bureau of Labor Statistics, also excluded the years 2007 and 2008.
 
Please enable JavaScript to view this content.