Indiana's life sciences companies are spending four times more on medical research than the state's hospitals, doctors and universities are receiving from such companies for research projects.
Add it all up, and it means Indiana's life sciences research community is missing out on more than $80 million a year.
That's what a new batch of data were released this week detailing the payments drug and device companies make to physicians and hospitals to help them develop new products.
 
Indiana ranks No. 7 in the nation for its take of the $3.23 billion paid last year by companies that make drugs and devices to doctors and teaching hospitals, according to the full fiscal year 2014 Open Payments data released this week by the Centers for Medicare & Medicaid Services.
 
With more than $160.6 million in spending during fiscal year 2014, Indiana ranked behind New Jersey, California, New York, North Carolina, Delaware and Massachusetts, according to the Open Payments database. (You can see the rankings in the charts near the bottom of this post.)
 
Much of this spending is for clinical trials, which means the numbers are dominated by drug companies. But research funding also includes consulting fees for clinicians' expertise during earlier stages of developing new products and license and royalty payments for researchers' discoveries that were later turned into new therapies.
 
Indiana's $160 million in spending was dominated by Eli Lilly and Co., which spent $141.9 million to fund research by physicians and hospitals. Other big spenders were Roche Diagnostics Corp. with $7.4 million, DePuy Synthes, which spent $4.7 million, Zimmer Holdings Inc., which spent $2.9 million and Biomet Inc., which spent $2.5 million.
 
But Indiana's hospitals and doctors that do research for drug and device firms received less than $40 million in research funding during 2014, according to the Open Payments data. That ranked No. 25 nationally among all states.
Indiana's researchers only capture 25 percent as much money as Indiana-based drug and device firms spend on research.
 
Call it Indiana's medical research trade deficit.
"The industry amount just demonstrates how our State is leaving a lot of money on the table," Dr. Phillip Toth, CEO of the Midwest Institute for Clinical Research, which does conduct clinical trials for drug firms from around the world, wrote to me in an e-mail. He thinks the Indiana University School of Medicine, Purdue University, as well as the state's hospitals and physicians, are missing out on large amounts of funding from drug and device companies. These figures, which are expected to go higher in the future, "just demonstrate how little our State has invested in developing a relationship with industry."
 
This trade deficit is the big reason why state, city and corporate leaders started the BioCrossroads initiative in 2002. And it's a big reason why those same groups are now trying to get the $360 million Indiana Biosciences Research Institute going.
 
Because they recognize that, while Indiana has lots of life sciences corporate assets, those assets haven't been turned into similar strengths outside the big corporations. Put another way, Indiana is a hotspot for life sciences corporations but it is hardly a hotbed for life sciences research.
 
Of course, most states wish they could have this kind of trade deficit. Nine out of the top 10 states for spending on drug and device research have a deficit.
Only Pennsylvania, which ranked No. 9 for spending by companies on research with $81.3 million (roughly half as much as Indiana), attracted even more dollars in research funding for its doctors and hospitals.
 
The biggest importers of life sciences wealth are the most populous states—Texas, Florida, Ohio—none of which have much in the way of drug and device-making industry.
 
And Indiana's life sciences trade deficit could certainly be worse. Delaware attracts only 1 percent of the research spending its home corporations send out. And New Jersey, the traditional home of the U.S. pharmaceutical industry, sends out $1 billion in research spending in 2014 but attracted only 4 percent as much—or $44 million—for researchers working in that state.
                                        Research Spending By State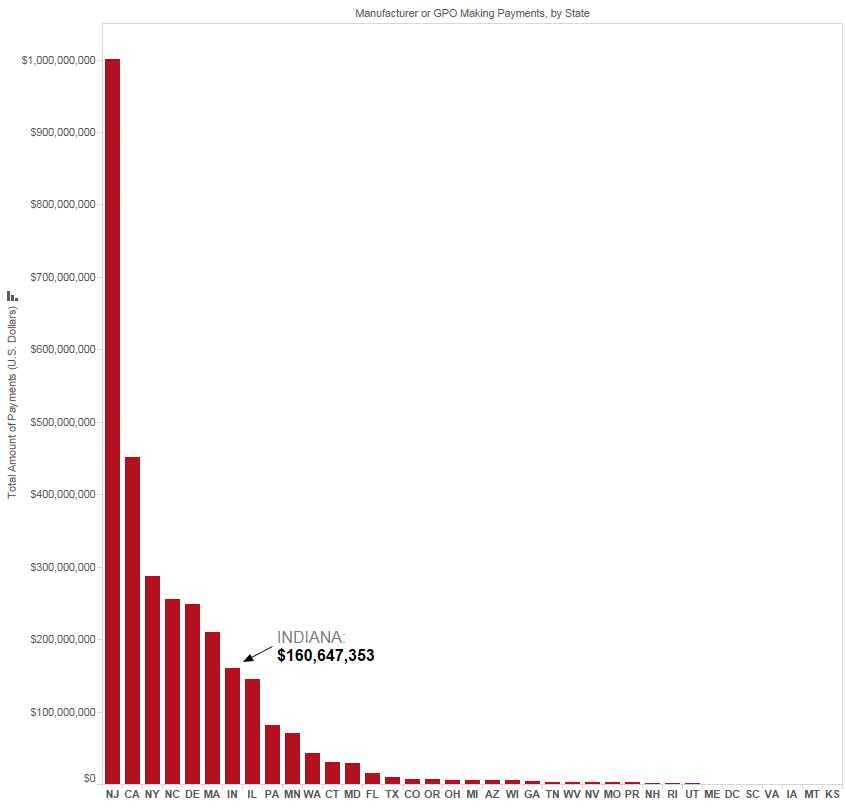 But if we exclude the outliers—Pennsylvania, Delaware and New Jersey—the rest of the top 10 states for drug and device research spending are also receiving drug and device research funding that ranges from 60 percent (North Carolina) to 98 percent (Massachusetts) of those amounts.
 
If Indiana were getting that same kind of percentage of research funding as its in-state companies are spending, it would be seeing about $80 million more each year. Said another way, Indiana's life sciences research community would roughly triple.
 
I say "roughly" because industry research funding isn't the only source of money for this type of work. In fact, funding from the National Institutes of Health has been the traditional barometer of life sciences activity (and Indiana lags on that measure, too).
 
But with NIH funding flatlined for more than a decade, industry funding is probably the key way to measure progress going forward.
And as these new data show, Indiana has a lot of progress still to make.
                            Research Funding Received By State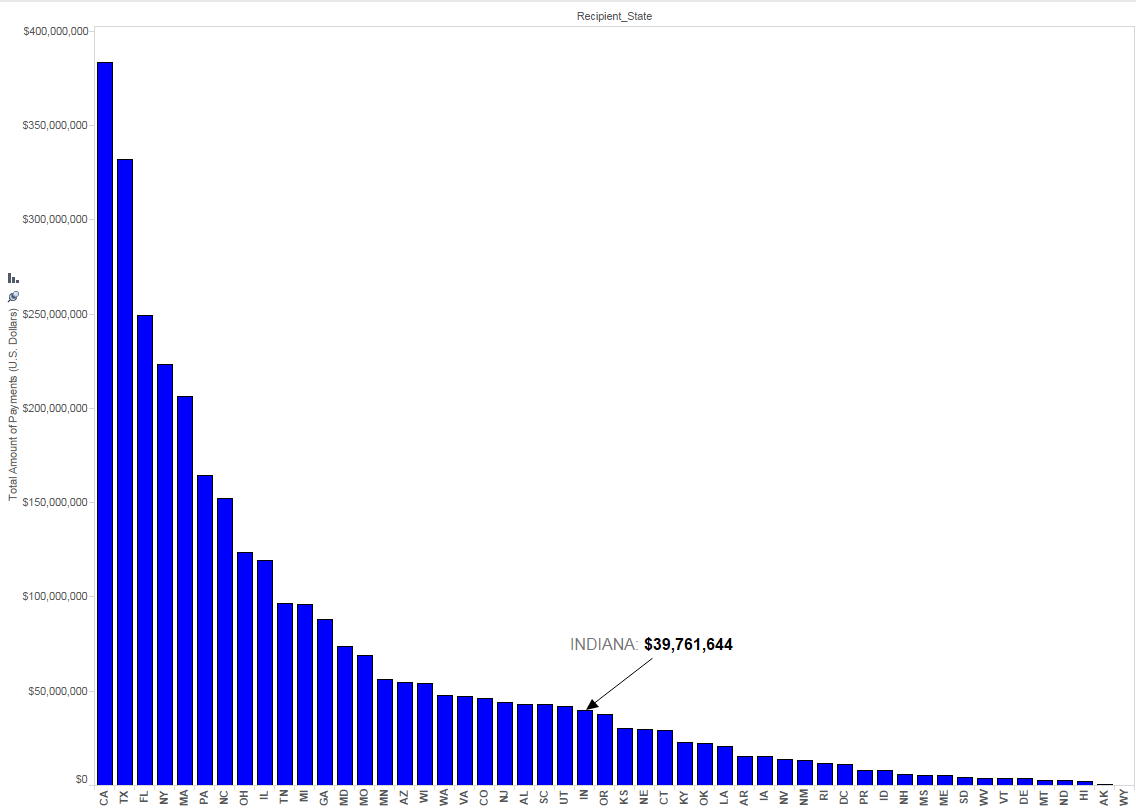 Please enable JavaScript to view this content.