Note: This post has been updated to reflect helpful input from a highly informed reader who pointed out that at least four county-owned hospitals have either recently merged or are trying to merge. Those hospitals either had no partnerships with nursing home operators or had very minimal partnerships, preventing them from reaping much or any of the extra federal money that has boosted profits at most county-owned hospitals.
Since four of the nation's five giant health insurers agreed to marry up, many folks have speculated it would spark a response by hospitals to link up too.
 
After all, when companies such as Anthem Inc and Cigna Corp. get together, they'll have more negotiating leverage with hospitals—unless hospitals counter by getting larger themselves.
 
On Aug. 12, Moody's Investors Service issued a report saying the insurance mega-mergers were a significant threat to hospitals and predicted that hospitals would merge in response. Moody's said hospitals that are not part of larger systems would be the most vulnerable.
 
"The pace of consolidation among hospitals is accelerating as hospitals use scale to drive down costs, increase market share, and improve quality in response to financial challenges and evolving industry dynamics. Some hospital consolidation is already taking place to gain an edge in negotiations over reimbursement rates," wrote Moody's analysts Lisa Martin and Daniel Steingart.
It's true that even before the health insurance mergers were announced in July, merger activity had restarted in Indiana. Last year, Wabash County Hospital merged with Parkview Health. In February, Clark Memorial Hospital announced a memorandum of understanding to be acquired by Norton Healthcare and LifePoint Hospitals. In May, Jasper County Hospital announced it had signed an asset purchase agreement with Franciscan Alliance. In July, Floyd Memorial Hospital said it had hired a consultant to evaluate its options for merging or affiliating with a larger hospital system.
There have also been talks in the past decade about the major hospital systems in Indianapolis merging. Indiana University Health's leaders have explored a merger with Community Health Network in the past. And in the 1990s, Community tried to make a go of partnerships with first St. Vincent Health and then Franciscan St. Francis Health. But there has been little talk recently about mergers among the large hospital systems in Indianapolis.
Those large systems did absorb many of the small county-owned hospitals in the 2000s.
But now, most of the county-owned hospitals that haven't already merged with larger systems are doing better than ever financially. So they have little need to merge.
Since 2011, 24 county-owned hospitals have formed partnerships with long-term care facilities that have brought them more profits than ever.
Here is how those programs work:
-    The county-owned hospital becomes the owner of the nursing homes.
-    The hospitals then pay extra money to the state Medicaid program to cover the state's costs of raising its payments rates for Medicaid patients as high as it can go—which is a level equal to what the federal Medicare program would pay for the same nursing care.
-    Those extra payments by the state government draw down payments that are twice as large from the federal government. That's because Medicaid in Indiana is funded one-third by the state and two-thirds by the federal government.
Those extra federal dollars totaled $520 million in 2014, according to Myers & Stauffer, an accounting firm that works for the Indiana Medicaid program. And according to multiple sources at county-owned hospitals and at nursing home operators participating in these partnerships, those funds are being split roughly 50-50 between the two sides.
That would mean county-owned hospitals are getting $260 million of that $520 million in extra payments.
I looked at the audited financial statements of 10 of the county-owned hospitals that have entered these partnerships, to see how their profits from their operations have changed compared with the period before these partnerships began in 2011.
 
I picked the most profitable year that each hospital had in the 2008-2010 time period—just to make sure I wasn't low-balling its earlier profits. Then I compared that number to each hospital's 2014 operating profits.
 
Here is what I found: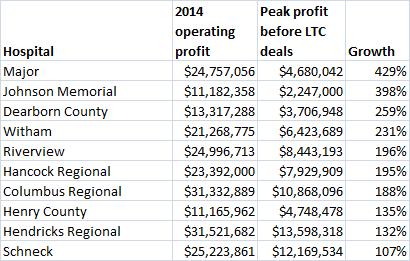 As you can see, every hospital on this list has at least doubled its operating profits over the past five years and two hospitals—Major and Johnson Memorial—are making five times as much money as they were before the nursing home deals.
 
I also checked out three hospitals that do not have partnerships with nursing homes. Their numbers looked very different.
 
Margaret Mary Community Hospital in Batesville had an operating profit last year of $4.5 million, essentially unchanged from its operating profit in 2008. Marion General Hospital had operating profit last year of $2.0 million, down by 51 percent from its peak profit in the years 2008 to 2010.
 
Only Reid Hospital in Richmond, which lost money every year from 2008 to 2010, saw growth. It turned a 2014 profit of $8.8 million.
Among the three hospital systems currently pursuing mergers, Clark memorial has no nursing home partnerships, Jasper County has a partnership with one nursing home and Floyd Memorial has partnerships with two facilities. Their 2013 operating profits, the most recent they have reported, were down by 173 percent, 186 percent and 97 percent, respectively, from the 2008-2010 period.
 
The executives at county-owned hospitals get antsy whenever I ask them about these nursing home partnerships. When I requested documents from the county-owned hospitals surrounding Indianapolis late last year, Riverview Health sent me this explanation in a cover letter:
 
"In general, these relationships allow for improved training, facilities, equipment, and care, and help both Riverview and these facilities align with the goals of the Medicaid program and the general trend in healthcare towards learning how to manage and coordinate patient treatment across the continuum of care," wrote Riverview Chief Financial Officer Brenda Baker.
 
Doug Leonard, CEO of the Indiana Hospital Association, has told me that the nursing home partnerships have kept some small hospitals in rural areas in business. And I believe him, because the pressures on small hospitals are huge right now.
 
But it also shows why the string of hospital mergers that went on throughout the 2000s came to a screeching halt in 2011 and has started up more modestly now. Because most of the small hospitals found a gusher of money that allowed them to remain independent.
 
That money will act as a cushion if the Anthem-Cigna merger or the Aetna-Humana deal leads to worse terms in these hospitals' insurance contracts.
Please enable JavaScript to view this content.