When it comes to health benefits, employers have long been guilty of double-speak.
 
They constantly—and correctly—bellyache about the rising costs of health insurance. Yet they keep pouring more money into health benefits for employees?
 
Why?
 
Because they are critical to recruiting and retaining good workers. And spending more on health benefits triggers one of the most generous tax breaks in the entire U.S. tax code—which has been in place since 1954.
 
But it looks like, at least in the Midwest, employers are actually starting to spend less on health benefits.
 
In the first two quarters of this year, Midwest employers reduced their spending on health benefits compared with the same two quarters in 2014, according to data gathered by the Bureau of Labor Statistics from employers in Illinois, Indiana, Michigan, Ohio and Wisconsin. Such data are not available by state.
 
The reduction was modest—just 0.8 percent from the second quarter of 2014 to the second-quarter of 2015.
 
But that's the first time benefits spending has gone down since the BLS started tracking these data in 2004.
 
What's also unusual is that wages in the Midwest have been rising faster than benefits spending in each of the past three years. That hasn't happened nationally since the heyday of HMOs in the mid-1990s.
 
BLS asks employers how much they spend per hour worked on wages (or salaries) and a host of benefits, including health insurance.
 
For the Midwest, average wages and salary were $20.32 per hour in the second quarter of this year, up by 1.4 percent over the same quarter last year. Spending on health insurance was $2.52 per hour.
 
You can see how increases in wages and health insurance have trended among Midwest employers over the past decade in the chart below.
Nationwide, employers did not reduce their spending on health benefits—although the national average spending on health benefits has been lower for years than the Midwest average.
 
Still, there are lots of indicators that employers are slowing the growth of their health benefits spending historically low levels.
 
Mercer, the national benefits consulting firm, released a survey on Thursday showing that employers' health benefits spending is rising by less than 4 percent for the third year in a row.
Trends in Indiana don't exactly match the rest of the nation or the Midwest each year in Mercer's survey. This year, the 55 Indiana employers in Mercer's survey raised their benefits spending by 5.7 percent, compared with an increase of 1.9 percent for all Midwest employers. But last year, Mercer's survey found slower benefits spending increases in Indiana than in the Midwest.
 
There are several factors that could be leading to slower growth, or even declines, in employers' spending on health benefits. Some of the tiniest firms have ended their group health plans, taking their spending to zero. Some employers have been adopting a so-called defined contribution health benefits plan, in which employers set their contribution level rather than letting it float up as health insurance premiums rise.
 
Also, the underlying cost of medical care has been rising more slowly in recent years than it has in the past few decades.
Here is the chart with the BLS data. It compares the second quarter data from each of the past 10 years.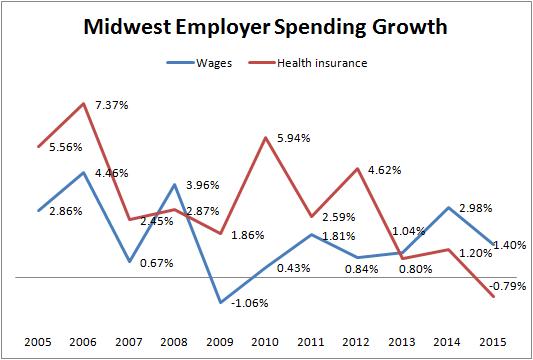 Mercer cited two main reasons for this trend.
 
First, employers are getting traction on their efforts to reduce their workers need for health care services and they prices they pay for care. These often involve high-deductible health plans that put employees on the hook for more of their care in an attempt to get them to be more like the price-sensitive consumers they are in other industries.
 
"It is not all cost shifting. We are seeing the fruit of the labor if you will of the various programs that employers have been implementing over the last few years," said Andrew Rosenberg, office leader for Mercer's health and benefits business in Indiana. "We are seeing additional success with things like consumerism, some success with value-based care and a focus on workforce health."
 
A second reason is that employers are cutting back the richness of their benefits to avoid Obamacare's Cadillac tax, which will take effect in 2018.
The Cadillac tax will apply a 40 percent surcharge to all amounts employers and employees spend on their total package of health care benefits that exceed $10,200 for employee-only coverage or $27,500 for family coverage.
That means an employer would pay $400 out of every $1,000 in spending on health benefits, per worker, that exceeds those limits.
Employers cuts to benefits spending are making a difference. Whereas a year ago, Mercer predicted that 33 percent of employers will trigger the Cadillac tax in 2018, now it expects only 23 percent will do so.
 
"Certainly employers are taking action," Rosenberg said, noting one employer that even wanted to stay enough below the Cadillac tax threshold that even a one-year spike in claims of 20 percent would not trigger the tax. "They're saying, "We are going to continue to take action to avoid paying that excise tax.'"
 
It's possible the Cadillac tax may not come to fruition.
 
There is a big effort in Congress now to repeal the Cadillac, with support from both Tea Party Republicans and union Democrats. Also, hospital system leaders would like to see the tax go, because they worry less employer support for health benefits will lead to fewer patients spending less money in their facilities.
 
But for now, the Cadillac tax is Midwest employers to do something they haven't done in decades: spend less on health benefits.
Please enable JavaScript to view this content.