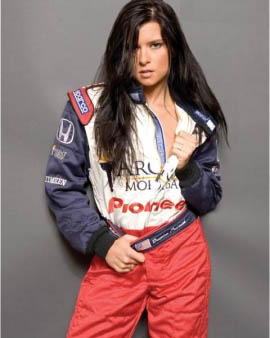 Motorsports insiders have been skeptical

 about  Danica Patrick's self-promotion plan ever

 since she raced onto the open-wheel scene

 more  than five years ago.
 From her spread in men's magazine FHM to her

 bad-girl persona, Patrick never has been afraid to shake things up.
Now she appears in a GoDaddy.com ad that is too hot for television. The spot was to appear in Sunday's Super Bowl, but was black flagged by the Fox TV network, which is airing the game.
She long ago took a very different path than Sarah Fisher, noted Eric De Bord, president and CEO of PROtential, a Woodridge, Ill.-based firm that pairs sponsors with motorsports properties.
 "Personally, I think Danica Patrick has received some poor advice," De Bord told IBJ in 2003
The ensuing years likely changed many sports marketers' minds, as Patrick is easily the Indy Racing League's most popular driver. She sells more merchandise than the rest of the IRL drivers combined.
Still, some sports marketers wondered if Patrick made a misstep when last year she signed on as the primary spokeswoman for GoDaddy.com, the Internet domain name registrar that made a name for itself with Super Bowl ads featuring scantily clad women.
If you want to see Danica's most recent ad, go to http://www.godaddy.com/. The entire ad won't be available until game day Feb. 3, but you can get a preview now. Let us know what you think.
Please enable JavaScript to view this content.