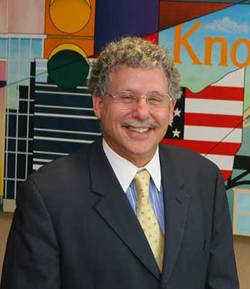 Author and former IUPUI dean Mark Rosentraub is writing another book.
This one, titled "Major League Winners," focuses on the five U.S. cities he thinks have most successfully used sports as an economic development tool.
Those cities are Indianapolis; Columbus, Ohio; Dallas; San Diego; and St. Louis. Rosentraub hopes to finish the book this summer.
In 1997, Rosentraub published "Major League Losers: The Real Cost of Sports and Who's Paying for It," a 513-page book that took a critical look at major-league sports operations and the subsidization of professional sports venues and teams by government entities and taxpayers.
Rosentraub, who is now dean of the Maxine Goodman Levin College of Urban Affairs at Cleveland State University, is in the process of researching Indianapolis for the new book.
"I just finished the data collection on Indianapolis, and the downtown development is really spectacular," Rosentraub said. "The focus of this book is that those [cities] that used arenas and stadiums as a tool for downtown development, win. Those cities that didn't do that, lose."
Rosentraub's preliminary conclusion is that Indianapolis is one of the biggest winners. What do you think?
Please enable JavaScript to view this content.