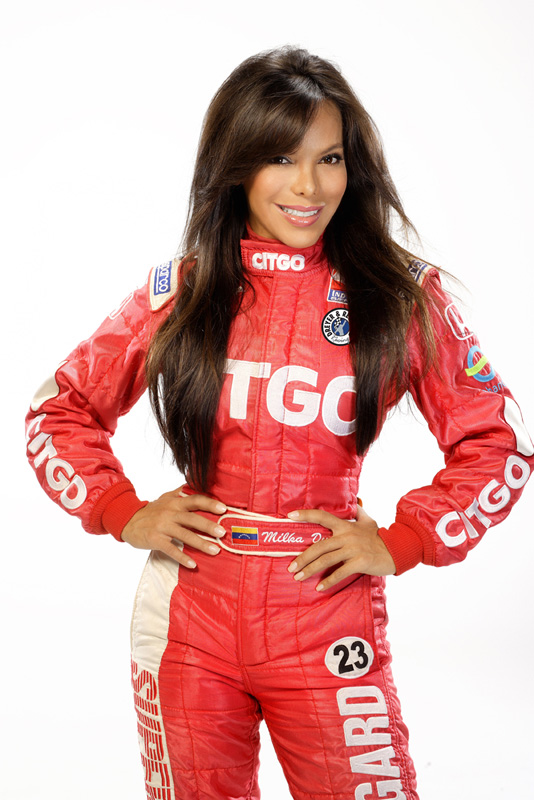 There could be as many as four women drivers in this year's Indy Racing League season. Danica Patrick and Sarah Fisher already have signed deals to race this year. Yesterday, Venezuelan Milka Duno signed to race several events for Indianapolis-based Dreyer & Reinbold Racing. Champ Car veteran Katherine Legge also may get a ride.

Duno will keep her sponsor from last year, Citgo, and is expected to try to qualify for the Indianapolis 500. With her limited experience at the highest level of open-wheel racing, that will be a tall order in the first season following the unification of IRL with Champ Car. At least 40 cars are expected to try to qualify for 33 spots at Indy.
Duno and Legge have the looks and personality to make a big splash in the unified series, but some motorsports insiders question their driving ability. Duno, who lives in Miami, made seven IRL starts with SAMAX Motorsport during the 2007 season. Duno's best finish was 11th at Texas Motor Speedway. Duno is a certified Naval engineer and has earned four master's degrees-three of them simultaneously. In late March, she will be releasing a children's book, "Go, Milka, Go!"  It features Duno as a cartoon character sharing the importance of education to children. Duno will make her big-screen debut on May 9 as a part of the Warner Bros. movie "Speed Racer." She'll play the role of Kellie "Gearbox," fittingly, a race car driver.
Legge, who is British, has tested and driven for several Champ Car teams, including Dale Coyne Racing, the past two years. And she has done something the other three have not-won a major open-wheel race. She was victorious in Champ Car's Atlantic series Long Beach race in 2005. She recently signed a deal to drive for the Audi factory team in the German-based DTM Series in 2008, but still could be available for select IRL races.
Danica is a hot property on and off the track. Which of the other three is best positioned to challenge her?
Please enable JavaScript to view this content.