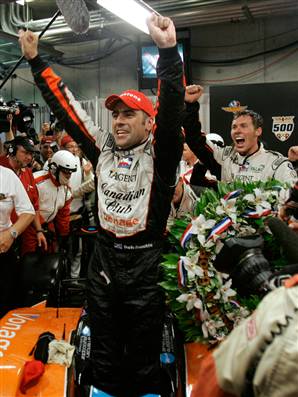 Recently released data shows NASCAR's Daytona 500 is still miles ahead of the Indianapolis 500 in terms of value the race delivers to sponsors. But, with the unification of the Indy Racing League and Champ Car, there is much optimism that the 2008 edition will be the most-watched Indianapolis 500 in more than a decade. The open-wheel crown jewel will have to really rev its marketing horsepower to close the gap.
A study compiled by Joyce Julius and Associates, an independent Ann Arbor, Mich.-based media research firm, concluded that Ryan Newman's victory in this year's Daytona 500 helped his sponsor, Alltel, receive in-broadcast exposure valued at $22.5 million, including promotional value for Alltel, Alltel Wireless and Alltel.com. Newman's victory also earned Dodge and Dodge dealers almost $5 million and Mobil Oil about $3.8 million in exposure.
By comparison, the primary sponsor of Dario Franchitti's winning entry at Indianapolis last year-Canadian Club-received in-broadcast exposure of $3.6 million. To be fair, the 2007 Indy 500 was rain shortened, but the gap between Indy and Daytona would not have been closed under the best weather conditions, sports marketers said. There were, however, bigger winners in sponsor exposure at Indianapolis last year, but all were well behind Alltel. Following are the top 10 at the 2007 Indy 500, according to Joyce Julius.
1.      Motorola $8.1 million

2.      NYSE Group $6.1 million

3.      Target $5.8 million

4.      7-Eleven $5.7 million

5.      Impact! $5.4 million

6.      Vonage $5 million

7.      Argent Mortgage $4.7 million

8.      Canadian Club $3.6 million

9.      Mobil 1 $2.9 million

10.    Bryant Heating & Cooling $2.6 million
 Do you think the gap will be narrowed at Indianapolis this year?
Please enable JavaScript to view this content.