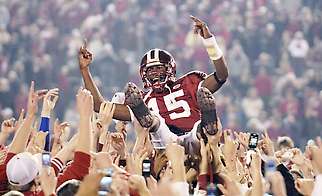 Indiana University this month began a television and radio advertising onslaught for its football team that seems to come at an odd time. After all, the spotlight is shining on March Madness, when all eyes in the Hoosier state are on the round ball.
Ordinarily, IU waits until the conclusion of basketball season to start hyping football. But this is no ordinary time for IU football. For all the criticism athletic director Rick Greenspan has absorbed, fans would have difficulty faulting his record with the football program. First, he hired Coach Terry Hoeppner, a solid coach and recruiter, and a marketer's dream. Despite Hoeppner's untimely death last year, the football team continued to excel on the field–and at the ticket office.
For the first time in many years, IU's football team in 2007 outscored the university's storied basketball program. The school's football revenue grew from $10.5 million in 2005 to $17 million in 2007. The men's basketball team rose from $11.9 million to $12.3 million during the same period. The football team accounted for almost 40 percent of the $44.7 million that IU's athletic department brought in during 2007, up from only 28 percent in 2005.
Sports marketers say IU's football advertising takes on more importance now that the program is hot. The ad campaign also comes at a critical time for Bill Lynch, who after last season became the full-time replacement for the beloved Hoeppner. As spring football practice begins this month, many questions swirl around the team. Not the least of which is; Can it win again in 2008 and can it continue to grow attendance and revenue? IU's football future is clouded by the indefinite suspension of star quarterback Kellen Lewis, who will be a junior next year. IU has been quiet on Lewis' status. With only raw backups behind him on the depth chart, his departure could be significant.
What is the outlook for IU football in 2008? And is it too early to start hyping the team?
Please enable JavaScript to view this content.