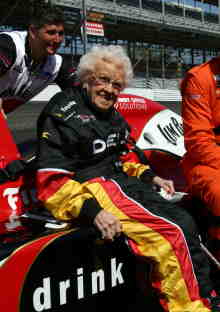 Business is good for the Indy Racing Experience, which was founded in a Gasoline Alley shop in 1987. The company, which started allowing fans to ride around the Indianapolis Motor Speedway in two-seat open-wheel cars in 2000, quietly began letting fans drive a real Indy race car last year. This year, company officials said, driving slots for the Experience in May are sold out and business is up more than 100 percent from last year.
"The whole [Indy Racing League-Champ Car] unification made our phones ring more," said company co-owner Scott Jasek. "A lot more."
Not only does the company run the Indy Racing Experience ride-and-drive program at every Indy Racing League track except in Japan, it also has a division that sells car parts to IRL race teams and a mobile marketing division. But it's the driving experience that is generating the buzz.
For $399, any race fan shorter than 6-foot-5 weighing less than 250 pounds can take three laps around an IRL track. Drivers are required to complete an orientation and follow a lead car. Drivers can hit top speeds of 100 mph or more.
Indy Racing Experience, which owns 10 single-seat race cars and six two-seaters, will usher 500 people through its program this May. The company is already taking reservations for May 2009. There's only been one minor accident in the program's history, and never with a fan-driven car. Program participants are not responsible for damaged cars.
"We have to have an insurance policy that makes Speedway officials comfortable," Jasek said. "We have a large policy."
The program is so popular, Indy Racing Experience has inked more sponsorship deals than most IRL teams, including major deals with Jim Beam, National Guard and Hewlett-Packard. "We really don't know how this got so big," said company founder Jeff Sinden. "We haven't done any advertising, and we're booking up fast."
And the program could grow even more. Word is, the Indy Racing Experience has a major deal pending to run the program year-round at a large amusement park. Jasek hopes the deal will be complete within a few months.
Please enable JavaScript to view this content.