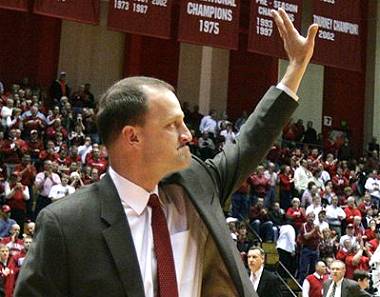 The NCAA warned Indiana University in 2006 about hiring coach Kelvin Sampson. And IU didn't listen. When IU was implicated in five major NCAA rules violations earlier this year, some NCAA officials, sources close to IU said, counseled the university to cut ties with Sampson immediately and consider a self-imposed post-season ban. IU went half way, negotiating a $750,000 buyout of Sampson's contract.
College hoops insiders said the school's decisions regarding its basketball program haven't sat well with the NCAA, and the selection committee's seeding demonstrated that. Those same sources think the seeding might be a sign of things to come–namely, a 2009 postseason ban. This summer, the NCAA will determine what punishment will be handed to IU for alleged impermissible phone calls to recruits made by Sampson and his staff.
Despite the Hoosiers' top 20 ranking most of this year, the NCAA gave IU the tournament's lowest No. 8 seed, effectively giving the team the tournament's No. 32 seed. Today's ESPN/USA Today poll has IU ranked No. 24. If IU beats Arkansas in the first round, the Hoosiers will likely play the tournament's overall No. 1 seed, North Carolina.
"I think there is probably a lot more involved in it than just winning and losing," IU interim head coach Dan Dakich told reporters Sunday night regarding the seeding. "It doesn't matter what anyone feels, it's just a matter of what we have to do."
Of course, there are those who would say Butler, which is ranked No. 10 in today's ESPN/USA Today poll, was the victim of an even greater injustice with a No. 7 seed in this year's NCAA tournament. And they are not the focus of any NCAA infractions.
Is IU's seeding punishment for its association with Sampson, or is it merely a sign that the team is wobbling down the stretch?
Please enable JavaScript to view this content.