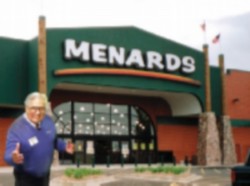 The company that powered Tony Stewart to the 1997 Indy Racing League championship is coming back to open-wheel racing. John Menard confirmed that his Menards chain of hardware superstores will be sponsoring Tony George's Vision Racing team for the 2008 season. Menard will sponsor the car driven by Ed Carpenter, George's stepson. Terms of the deal were not released, but motorsports business experts placed the deal in the $2 million to $3 million range.
After the IRL-CART split in 1996, Menard fielded one of the most successful multi-car IRL teams. Menard, 68, of Eau Claire, Wis., ran his own IRL team until 2001 before leaving to follow his son's stock car career. Menard continued as an IRL sponsor, funding Vitor Meira in 2002 and 2003, before leaving the series altogether. Menard has sponsored cars piloted by some of the best open-wheel drivers, including Al Unser Sr. and Tom Sneva. But he's never been part of a winning Indianapolis 500 team. He said one of his primary goals is changing that.
Oddly, Menard's pairing with Vision Racing brings him back together with Larry Curry, who went to jail for embezzling more than $1 million of Menard's money over a three year period in the late 1990s. Curry, who managed Menard's IRL team when Stewart drove, is now the team manager for Vision. Menard said he has no problem with Curry's involvement with Vision Racing.
For now, Menard said he is happy to be a part of Vision Racing, but he didn't discount becoming an IRL team owner again.
Please enable JavaScript to view this content.