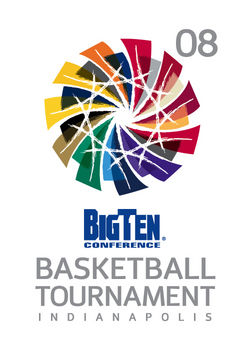 As a result of quarterfinal losses by Indiana and Purdue, attendance for last week's men's Big Ten basketball tournament at Conseco Fieldhouse fell below projections. After Session 3 (the one featuring IU and Purdue) drew a single-session record 18,691, the semifinal session drew 17,525 and the championship drew 14,579. The five-session total was 80,012. That's short of the 90,763 the tournament drew in Indianapolis in 2006.
With face value of tickets ranging from $35 to $85 for the semifinal and final, the early upsets of IU and Purdue likely cost event organizers close to $300,000 in ticket revenue alone. Add in parking, concession and other ancillary sales that would have been driven by larger crowds, and the loss of potential income likely hit $400,000.
The early losses of IU and Purdue might also have been a factor in the tournament's TV ratings. The championship game on Sunday earned a 1.5 rating for Wisconsin's win over Illinois, a 52-percent drop from the Ohio State-Wisconsin title game last year, according to New York-based Nielsen Media Research. One rating point equals about 1 million households nationally.
One factor in the decline is that the Southeastern Conference title game was moved from 1 p.m. on CBS to 3:30 p.m. on ESPN2, possibly cannibalizing viewership. Also, interest in Ohio State All-American Greg Oden, who played in the 2007 Big Ten championship game, played a role in driving ratings up last year, according to media analysts.
College hoops fans that watched any of this year's Big Ten basketball tournament, live or on television, probably noticed the colorful logo that adorned center court at Conseco Fieldhouse. Indianapolis ad firm Bradley and Montgomery, which is known for its work with MTV and Microsoft, signed a deal last year to create the logo that will be used through 2012 in conjunction with the tournament.
BAM Principal Scott Montgomery said the agency created the logos for free as a service to the city and the Big Ten, but he didn't deny that such high-profile projects add to the firm's reputation. BAM used the two primary colors of all 11 Big Ten teams in the design. The 22 pennants used in the design were woven together to look like a top-down view of a swooshing net. The marks were used throughout the Fieldhouse and along streets outside the facility. "Anything we can do to make this city look more attractive, we want to do," Montgomery said. "We want to be good community members, but it also helps us with our [employee] recruiting."
Please enable JavaScript to view this content.