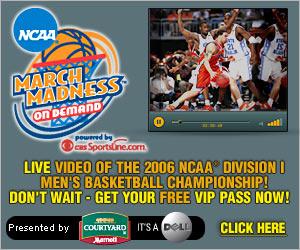 The Madness this March is going to be a little crazier than usual. Due to advances in high-speed wireless technology, more people than ever will spend time at work paying attention to the NCAA men's basketball tournament this year. According to Challenger Gray & Christmas, a Chicago-based outplacement consulting firm, U.S. companies will absorb $1.7 billion in lost worker productivity as a result.
That's a dramatic increase from the $765.7 million in lost worker productivity due to March Madness in 2004. Challenger Gray officials blame the increase in productivity loss on improved technology which allows more fans to track the tournament through the Internet. This year, for instance, more fans than ever will be able to watch high-speed video of the tournament. Just last year, Challenger estimated the productivity loss at $1.2 billion.
"This could be a milestone year when the tournament's early rounds go from a shared screw-off venture—people crowded into bars and huddled into break rooms—to a solo one with everyone quiet in their cubicles," said Yahoo! Sports reporter Dan Wetzel.
Some of the Web sites that allow fans to watch live video feeds of tournament games even have a "boss button" which allows work-place scofflaws—with a single key stroke—to dump the screen when their supervisor walks by.
While the Super Bowl, World Series and Indianapolis 500 are bigger sporting events in different ways, nothing quite unites the entire nation like the specter of the NCAA hoops tournament, sports marketers said. This year the tournament includes teams from schools large and small from 30 different states and  the District of Columbia.
Are workers wrong to watch basketball games, check up on scores or fill out a tournament bracket on company time? Or is a little down time each March within an otherwise hard worker's right?
Please enable JavaScript to view this content.